NEW 42ND STREET STUDIOS, 2000
The current incarnation of Times Square—candy colors, schlock, and all—is a colossal and coordinated achievement, not least because it was preceded by an assortment of appalling schemes. (As for those warm memories of its porn-palace days, they're romanticizing misery.) Platt Byard Dovell's symbol of the district's renewal is this collection of rehearsal studios with a glass façade clad in nothing but colored lights. A luminous wand stands guard out front, announcing, This is where the action is!
AMERICAN FOLK ART MUSEUM, 2001
You can't touch the objects at the American Folk Art Museum, yet Tod Williams and Billie Tsien produced what might be our most sensuously tactile building. The shell is an abstract field of bronze-and-steel-alloy panels, like an iridescent hide. Inside, light—so precious on a deep, narrow Manhattan lot—filters through translucent glass, spreads over precast concrete walls, and streams through the skylight, lending the sliver building an illusion of expanse.
173–176 PERRY STREET, 2002
Richard Meier's pair of luxury fish tanks facing the Hudson River changed the condo market, the West Village, and the demand for very large, very clear panes of glass. Meier followed with a third tower next door and another on Prospect Park, but not even an authentic knockoff could quite match their supercilious exhibitionism and extravagant austerity. Finally, the city saw an alternative to fetishizing prewar luxury.
THE ARGUMENT STARTER
MUSEUM OF MODERN ART EXPANSION, 2004
From the day it opened, MoMA's expansion provoked contradictory reactions, and those feelings have only polarized further. Serene or chilly? Dramatic or corporate? At once domineering and self-effacing, Yoshio Taniguchi's building encapsulates the evolution of the museum. The term "modern" now describes the past, and Taniguchi's glossy black-and-white wrapper for MoMA's older buildings is both beautifully executed historicism and a mummification.
HEARST TOWER, 2006
Punching through Joseph Urban's showy 1928 International Magazine Building, bedecked with urns, masks, and medieval buskers, Norman Foster's tower looks stoic. But it offers razzmatazz of its own. Its edges are scalloped, its corner windows tilted. The slanted external beams glow orange at sunset, like swords in a fire. A show-off skyscraper for a town that needs more of them.
MORGAN LIBRARY EXPANSION, 2006
Stitching together three New York idioms—a glum Victorian brownstone, J. P. Morgan's Gilded Age palazzo, and his son's austere Annex—was a surgical challenge that brought out the best in Renzo Piano. The connective tissue of glass, painted steel, and warm glowing wood is best appreciated from the welcoming atrium, which leads to the library's gothic nooks. The most dramatic feature is invisible: a deep vault that addressed the storage problem that all New Yorkers seem to share.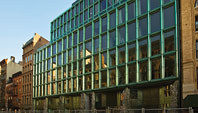 40 BOND STREET, 2007
Even in a pin-striped city, flamboyance has its place, and one of those places is the showy façade of Herzog & de Meuron's 40 Bond Street. Thick cast-glass tubes frame the huge windows, and a gate as white as a picket fence and as baroquely ornate as a Spanish-cathedral grille separates insiders from hoi polloi. The gate's graffiti-inspired curlicues proliferate on greenish stainless-steel walls and run into the lobby and up the undulating Corian walls to the mirrored ceiling.
NEW MUSEUM FOR CONTEMPORARY ART, 2008
The Bowery's first museum (if you don't count some of the self-embalmed exhibits who used to shamble down the street) is a tough but ghostly presence. SANAA's stack of boxes with a steel mesh carapace brings a feeling of permanence but not stability to a neighborhood that keeps changing every day. Already, it looks prepared to play a future role as an old-timer on a rejuvenated block.