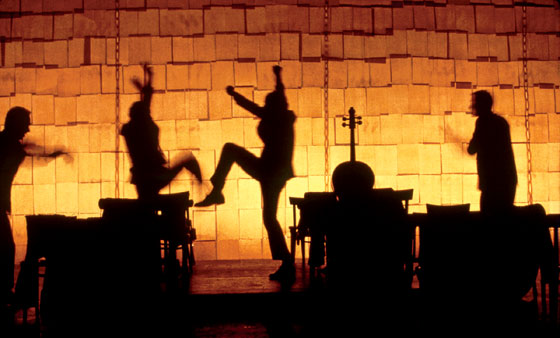 Classical music is global and ephemeral and often aspires to a state of universality: Tonight's Carnegie Hall recitalist may have just flown in from Germany and will be in Hong Kong next week. Even native New Yorkers hone their acts elsewhere before hoping to return. Which makes an awkward fit for a canon of works linked by their inherent New Yorkiness. I've had to wrestle this list into its frame, omitting many memorable musical experiences because they had no special connection to the city, and tying live events to recordings. The New York Philharmonic's performance of the Brahms Requiem in the days after 9/11 was far too magnificent an event to skip. But I left out Philip Glass's 1976 Einstein on the Beach; although the premiere seared itself into the memory of those who saw it, the recording tells only half a story. New York creates as much music as it imports, and some of it is imbued with local qualities that materialize only later. In the mid-nineties, Steve Reich walked around Manhattan recording sounds that he later wove into City Life. It's more explicitly urban than his other works, yet the sense of overlapping rhythms competing in a crowd—the essential sidewalk experience—is equally evident in Drumming, which he wrote more than 30 years earlier. In music, New York sometimes does something supremely un–New Yorky: It hides.
DRUMMING, 1971
Steve Reich was already a charter member of the downtown music scene when he went off to Ghana to study drumming. He returned with a suitcase full of bells and the idea for Drumming, an hour-long-plus all-percussion epic that infused African rhythmic structure with a distinctively New York obsessiveness. A recent CD by the So Percussion ensemble blows away the original version by the composer's own group.
NEW MUSIC, NEW YORK, 1979
The Soho generation came of age during this weeklong festival of contemporary music at the Kitchen: A tiny audience heard an assortment of mind-altering works by members of the future Establishment, including Meredith Monk's seminal Dolmen Music. Two decades later, the Kitchen unearthed the tapes and issued a two-CD set: From the Kitchen Archives: New Music New York 1979.
LA BOHÈME, 1981
The principal character in Franco Zeffirelli's beloved production of La Bohème is Franco Zeffirelli's production. When it opened at the Met, the second act got a roaring ovation that nearly swamped the singing, and audiences have kept on adoring the director's snow-globe version of Paris and his hyperdetailed portrayal of festive poverty ever since. The live telecast of that first run, with Teresa Stratas and José Carreras, has been preserved on DVD. There have been few moments so primal in the saga of Met décor.
UNITED STATES I–V, 1983
Laurie Anderson, singer, electric fiddler, artist, wit, and great American raconteuse, tackled the infinite absurdity of American life in a seven-hour, two-night multimedia extravaganza of the sort that only the Brooklyn Academy of Music would have incubated. (The show was condensed into a live double album.) Like many of her Soho compatriots, Anderson developed a coolly ironic delivery, part Andy Warhol, part smartest-kid-in-the-class. In the tones of a science-documentary narrator, she imagined human sperm magnified into sperm whales hurtling from California to Japan. "How would they be received?" she wondered. "Would they know they were carrying information?"
ALFRED BRENDEL'S BEETHOVEN CYCLE, 1983
The pianist Alfred Brendel, scholarly and refined but hardly a box-office name, caused panic in the offices of Carnegie Hall when he announced his plan to play all 32 Beethoven sonatas in one month. It was the first time such a thing had been tried there in 40 years, and staffers envisioned glowing reviews and empty seats. But they had underestimated New York, which turned out to be well supplied with music lovers eager for large doses of Brendel's lucid, subtle, and un-flashy brand of pianism. The house was full, and the subsequent set of piano sonatas he recorded continues to compete with the two he'd recorded earlier. The Beethoven endurance feat has since become the pianist's Everest—still formidable, if done a little too often.
THE BANG- ON-A-CAN MARATHON, 1987–PRESENT
Three young composers frustrated by the fragmentation of New York's musical life—Julia Wolfe, Michael Gordon, and David Lang—organized an event long enough to include music from every stylistic fiefdom and free enough to include all sorts of creative noise. It's become an annual rite, spawned the crackerjack Bang-on-a-Can All-Stars, and renewed New York's claim to be a musical incubator with an eclectic soul. (The disciplined excitement of those early sessions comes through on Bang on a Can Live.)
THE ARGUMENT STARTER
PAVAROTTI IN CENTRAL PARK, 1993
From his apartment on Central Park South, Luciano Pavarotti liked to survey the site of his mass-appeal triumph, when half a million people crammed the Great Lawn and millions more tuned in to hear him sing "O Sole Mio." It was a great moment in branding—for Pavarotti, for opera, and for the park. It's out on CD and DVD, though those recordings really don't do him justice—he was always most dazzling indoors and in costume, especially a few blocks away at the Met.