TV
1. See Defiance
Where video games and drama meet to make out.
If you follow both science fiction and video games, you already know about this Syfy series, which concerns displaced extraterrestrials colonizing Earth in a discriminatory, District 9–style arrangement. The show promises to develop its story line in tandem with the gaming world to create an organic, constantly unfolding universe. Yes, it's thoroughly overhyped, but it does sound cool—an attempt to formalize what science-­fiction movies and games have already been doing unofficially for years. —Matt Zoller Seitz
Syfy, premieres April 15, 9 p.m.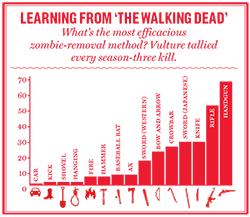 Movies
2. See The General
Keaton's best movie, with a new score played live.
Most silent films are, let's face it, homework: You should see them, but they're really slow going. The General is an exception: totally watchable today, and Buster Keaton's deadpan reactions are still funny. At this screening, a good, clean print is paired with a new score by Kathy Corecig, played by the Australian ensemble Viola Dana.
Museum of the Moving Image, April 14, 4 p.m.
Books
3. Read The Interestings
A slice of seventies teenhood by Meg Wolitzer.
"This was the world they were meant to enter: a world of fuckers." The fuckers in question are Nixon and his enablers, "they" are a group of teenagers who meet at a summer camp in New England, and the line is from Meg Wolitzer's The Interestings, which traces those teenagers' rises, falls, and flatlines from adolescence to middle age. As a nice bonus for New Yorkers, the book also captures the demographic topography of the city and its dramatic change since the seventies. —Kathryn Schulz
Riverhead Books.
iPhone Games
4. Play Ridiculous Fishing: A Tale of Redemption
Go angling, miss your subway stop.
First, drop your lure and catch as many fish as you can; then reel them back up and blast them out of the sky with a bazooka. This delightfully stupid iPhone game won't teach you anything about real fishing, but it will exercise the same finger muscles as Doodle Jump and Fruit Ninja in half the time. The 8-bit soundtrack's great, too.
In Apple's iTunes App Store, $2.99.
Books
5. Read Gulp: Adventures on the Alimentary Canal
Mary Roach's delicious science.
The writer Mary Roach knows that the best way to handle potentially leaden science is with wit, especially a good dollop of gross-out humor. Her previous book Stiff was all about what happens to dead people; this one's about what happens to everything you eat. Guess how it ends.
W.W. Norton.
Movies/Video
6. See Withnail and I
In memory of Richard Griffiths.
Most of the world knows Griffiths as Uncle Vernon from the Harry Potter movies. But his breakout moment probably came in 1987, in this British cult comedy about two actors whose restorative vacation goes all wrong—a film that helped get the indie movement going in America. (And after you've seen this, proceed to his performance in the 2006 film of The History Boys.)
Criterion Collection DVD, $49.49 at Amazon.com; standard download, $14.99.
Opera
7. See David et Jonathas
A 1688 work arrives in the New World.
Every time you think that William Christie and his group Les Arts Florissants must finally have emptied the big trunkful of great-but-forgotten French Baroque operas, along comes another fresh and stately spectacle. This time it's Marc-Antoine Charpentier's David et Jonathas, originally a set of musical interludes for a lost biblical play but now dusted off, reconstructed, and staged. —Justin Davidson
BAM, April 17.
TV
8. See The Borgias
It's unfair to compare The Borgias to HBO's Game of Thrones, considering that one's based on real life and the other has dragons and zombies and such; the former has its own pleasures, chiefly Jeremy Irons's performance as Rodrigo Borgia, a.k.a. Pope Alexander VI, and the Godfather III–in–a–time–machine atmosphere, all faux-­Vatican interiors and furtive whispering in candlelit hallways. It's always frustratingly not quite great, yet never less than engrossing. —M.Z.S.
Showtime, April 14, 10 p.m.
Art
9. See MoMA's Art Labs
Your kid really could do that.
An underpublicized nook of MoMA allows little kids to make their own art and partake of interactive play to learn about what they're seeing. The current "show"—up through August—is devoted to the ways artists represent the human form.
Museum of Modern Art's Cullman Building, first floor.
Every Form of Media There Is
10, 11, & 12. Read, Hear, and See Marc Maron
The man is beyond ubiquitous.
Maron nearly washed out as a comic in the mid-aughts, after years of promise (and drugs)—and then his little podcast series, "WTF," made in his garage, blew up. With a memoir and a TV series out this spring, he'll be taping a new stand-up special at (Le) Poisson Rouge this week; the show's sold out, but Stubhub will provide, at a price.
Attempting Normal, out April 30 from Spiegel & Grau; "WTF" podcast taping at (Le) Poisson Rouge, April 15; TV series premieres May 3, IFC.