Classical Music
13. Hear The Rite of Summer Music Festival
Out and loud.
If you're going to perform contemporary music outdoors, on an island that was once a military base, is now a construction site, and will soon be a park, you'd better be tough, fast, noisy, and very, very good. That pretty much describes the 21-year-old Bang on a Can All-Stars, and the group inaugurates the Rite of Summer festival on Governors Island with music by its founders (David Lang, Julia Wolfe, and Michael Gordon) and their spiritual guides (Steve Reich, Louis Andriessen, and Thurston Moore). —J.D.
Governors Island, starts July 13.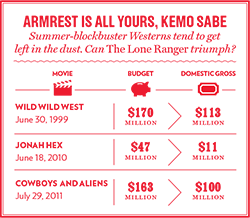 Movies
14. See Alfred Hitchcock's Silent Films
Watch for him.
You've still got time to catch two of the nine rare Alfred Hitchcock silent films on view (with live music) at BAMcinématek—realist pictures with dashes of expressionism, in which you can see the Master develop his signature style and introduce his pet themes. Among the brilliant artifacts: Hitchcock's very first film, the showgirl melodrama The Pleasure Garden (1926), with twenty minutes of rediscovered footage. —D.E.
Series ends July 3, full schedule at bam.org.
Theater
15. See A Kid Like Jake
Carla Gugino as a high-key Manhattan mom.
In Daniel Pearle's sturdy, well-observed kitchen-sink drama, the ever-underrated Carla Gugino stuns as a tightly wound New York parent with a 4-year-old son who wants to be a girl—and right on the eve of his private-school interviews. She steers us beyond cliché toward well-earned but not overstayed pathos and profound empathy for the Black Hawk helicopter parent in us all. —Scott Brown
Lincoln Center's Claire Tow Theater, through July 14.
Art
16. See Simon Denny at Petzel Gallery
You'll think you're inside a 3-D iPhone app.
Titled "All You Need Is Data: The DLD 2012 Conference REDUX Rerun," this exhibition of ink-jet prints on canvas installed on what looks like a zigzagging queue features advertising and quotes meant to come from movers and shakers in the digital intelligentsia. It's a wraparound TED talk, but not obnoxious: It electrifies the art mind with ways art might one day look and act. A candidate for the season's ten best. —J.S.
Through July 27.
Comedy
17. Laugh at Colin Quinn: Unconstitutional
Founding fathers, meet the Kardashians.
On Twitter, Quinn plays a self-important hack comic (and GoodFellas maniac); onstage, he's a lot more thoughtful, as his 2010 history-of-the-world monologue Long Story Short proved. This follow-up show, Unconstitutional, just extended its run and jumped to the Cherry Lane.
Through July 23.
Movies
18. Dip Into Japan Cuts
There's a genre here for everyone.
One of the loopiest, perviest, and least predictable of New York's film festivals is Japan Cuts, which this year mixes tales from the darker-than-you-ever-imagined side with a few mainstream hits. You get sex, horror, samurai, documentary, the assassin picture Rurouni Kenshin, and a rare serial-killer shocker, Junichi Inoue's A Woman and War, with roots in the country's war crimes. And the series kicks off with Toshiaki Toyoda's I'm Flash!, a bitter, prankish gangster thriller involving a celebrity cult leader and his new bodyguard. —D.E.
Japan Society, July 11–21.
Theater
19. See The Explorers Club
Jolly good, old chum.
Like a colonial cocktail fizzing beneath a bushy mustache, Nell Benjamin's amiably corny costume farce—one wacky day in the life of a National Geographic–esque society of nitwit dilettantes in Victorian London—tickles harmlessly, thanks to its sparkling assemblage of comic talent and the Cirque du Soleil bartending of Carson Elrod as a blue-skinned "savage." —S.B.
MTC City Center Stage I, through July 21.
TV
20. Watch The Newsroom
Back, and maybe better.
After all the vitriol directed at season one, the premiere has addressed one complaint—that the characters are too righteously right and too good at their jobs. The plot's about a tip that the gang hopes will lead to a great scoop but instead becomes a mortifying domino chain of bad decisions. —M.Z.S.
HBO, July 14, 10 p.m.
Pop Music
21. Hear Babyface
For the cool in you.
A free outdoors evening with the eighties R&B phenomenon, keeping it smooth after three decades.
Wingate Field, Brooklyn Ave. at Rutland Rd., July 15, 7:30 p.m.
Movies
22. See Big Star: Nothing Can Hurt Me
Alex Chilton's band wasn't just his.
If you're a fan of the seventies Memphis group Big Star—and if you know their music, you're a fan—you'll be both thrilled and bummed out by Drew DeNicola's sympathetic documentary. After an overture in which critics and musicians laud the band, we see footage of the depressive but driven Chris Bell—the man behind Big Star—and the charismatic Alex Chilton, who got all the attention. —D.E.
Opens at the IFC Center, July 3.
Theater
23. & 24. See Encores! The Cradle Will Rock and Violet
Two shows that deserve a new look.
The invaluable Encores! series inaugurates its Off-Center summer spinoff—featuring Off Broadway classics and curated by Jeanine Tesori. Including: The Cradle Will Rock, Marc Blitzstein's 1937 Brechtian pop opera, starring Danny Burstein, Raúl Esparza, Judy Kuhn, and Anika Noni Rose. As for Violet, it's understandable that Tesori wanted to include a one-night-only concert of this 1997 musical about a disfigured pilgrim: It's great and unfamiliar, and she happened to write the score. The impeccable Sutton Foster stars.
July 10–13 and 17, New York City Center.
Books
25. See I'm So Excited
Flyers on the verge of a nervous breakdown.
The new Pedro Almodóvar film is set largely aboard a plane, where the thin air makes everyone giddy in a way that only he can manage. A pre-takeoff accident (featuring two cameoing superstars) screws up the landing gear, and as the plane circles, the gay-male crew gets drunk and drugs the economy-class passengers while the first-class ones (a clairvoyant, an ex–porn actress, a pair of newlyweds) air their dirty laundry. The campiness is organic: Almodóvar is so fluid that he doesn't seem to make movies anymore—only to dream them aloud. —D.E.
In theaters now.