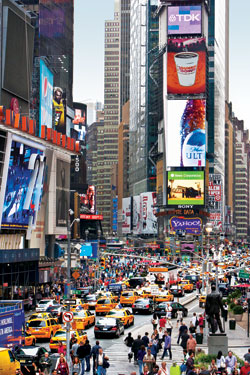 There are two distinct approaches to public-space renovations: the grand design and the perpetual tweak. If Snøhetta is pursuing the first path, the apostle of the second is Daniel Biederman, who led the fabulously successful renovation of Bryant Park in the early nineties and has been managing it ever since, filling it with activities, temporary structures, and retro details. "If I were the czar of Times Square design, I would do the traditional stuff: plants, kiosks, movable seating, games, programming—small touches," Biederman says. "Most people look down as far as two feet from the ground and up to fourteen feet off the ground, so at Times Square they have a chance to waste a ton of money on a surface that nobody's going to see." Yet Bryant Park's charms don't constitute a recipe. Times Square is not a graciously bounded piazza, and it shouldn't be a verdant oasis. It's an accidental wedge formed by two major avenues. Seventh Avenue will keep its traffic, and so will the cross streets. Even below ground, ancient water mains, electrical lines, telephone cables, subway tunnels, and long-buried trolley tracks tangle chaotically. The square's getting a face-lift and major surgery at the same time. Quaintness has no place here.
Every bit of this area acts as a showcase of some kind. The new design is to the street what the M&M's store is to candy and Good Morning America is to television: an urban launchpad for a global commodity. In this case, the product is the philosophy of public space preached by the Bloomberg administration's impassioned transportation commissioner, Janette ­Sadik-Khan. For decades, American cities have treated their streets as traffic conduits meant to speed cars along as efficiently as possible (which is often not very efficiently at all). Instead, the new thinking goes, they should be a flexible network equally comfortable for drivers and dawdlers, parents with strollers, cyclists, truckers, and anyone who would rather just sit for a while and rest. Until 2009, the theater district embodied the disjunction between the way streets were conceived and the way they were used, as Sadik-Khan points out with data-driven fervor.
"Times Square had 137 percent more accidents and crashes than any other avenue in the area," she says of the way she found it when she took office in 2007. "It was a hot spot of congestion. You had 356,000 people coming through on foot every day and less than 10 percent of the space allocated to pedestrians. It wasn't working, and it was a problem that had been lying in plain sight for 200 years." You remember: Crowds spilled over the curbs into the street, gridlock stranded taxis in the triangular crossroads, and hurried theatergoers battled through the stationary herds.
The Times Square Alliance, which represents local businesses, suggested an incremental solution: Widen the sidewalks a little bit. Sadik-Khan one-upped them and completely closed five blocks of Broadway to traffic. The result was a harvest of happy data: fewer accidents, cleaner air, more satisfied survey respondents, and popular events like the Summer Solstice free yoga classes that last year attracted 6,000 people. (The 2012 edition takes place on June 20.) Clearing out cars also brought a surprising economic roar. Before, annual commercial rents in the area averaged about $800 per square foot. Last week, the eyewear emporium Oakley opened a new store, paying about $1,400 per square foot.
Everyone in the Bloomberg administration is watching the countdown to the end of the mayor's term, and Sadik-Khan's Department of Transportation seems to be rushing to set her revolution in concrete so that her successor can't merely paint it over. Times Square is only the most visible representative of a program that spans all five boroughs: Another 50 permanent plaza renovations are completed or in the works, from Madison Square to Myrtle Avenue in Brooklyn and Roberto Clemente Plaza in the Bronx. Uncharacteristically for a city agency, the DOT is resisting uniformity, trying to gear each project to local desires, so the Snøhetta design won't be an archetype, but it will be a much-­scrutinized example.
Tourists already make the crossroads of the world an obligatory visit, but Tim Tompkins, the president of the Times Square Alliance, wants to change both the composition of the crowds and the reasons they come. "Ten years from now, we want people to want to see what public art is happening here," he says. There is of course the possibility that a rejuvenated Times Square will appeal to New Yorkers so intensely that it will once again become as unbearably crowded as it was before. That's a risk the city is willing to take.