A few years ago, an architect with a global reputation was walking me through his busy studio, boasting of his exhaustive experience. I asked if he had ever designed in the suburbs; he looked at me as if I were out of my mind. Architects tend to treat the zones where half of all Americans live as a backward, inhospitable wilderness. The suspicion is mutual: Who needs a fancy designer when builders all over the country know how to construct a peaked-roof single-family house?
The Museum of Modern Art's small but magnificently ambitious new show "Foreclosed: Rehousing the American Dream" makes an overwhelming case that the two camps need each other now. Today's suburb has little to do with the outwardly tidy, seething, monochrome world of Updike or Revolutionary Road. It's got its own new set of dysfunctions: boarded windows and weedy lawns, acres of sparsely used parking lots flanking clogged roads, immigrant workers jamming by the dozen into houses conceived for the Cleavers, household food budgets eaten up at the gas pump. Then there are all the old urban ills of poverty, violence, drugs, and racial friction, which have migrated to places that were designed for escaping them.
Barry Bergdoll, the chief curator of MoMA's architecture-and-design department, and Reinhold Martin, director of the Buell Center at Columbia University, believe that architects can help by rethinking the whole concept of what a suburb is, whom it's for, and how it works. For several months, five teams of architects, economists, engineers, lawyers, landscape designers, and other specialists took up residence over at P.S. 1 and fantasized about how best to fix up a disparate selection of troubled suburban sites. Their presentations were critiqued, videotaped, tracked on a MoMA blog, then whipped into shape for "Foreclosed." Now visitors can wander into a single gallery on the museum's third floor and encounter inventive solutions to formidable problems they may have thought little about. Bergdoll has used the museum's clout to create a glass think tank, a place where the public can keep an eye on experts at work.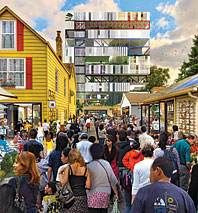 Some ideas in the show sit on the border between bold and silly. You might be skeptical of the wisdom of introducing African elephants to a Southern California subdivision, as Andrew Zago has proposed. Maybe you doubt that Hilary Sample and Michael Meredith's notion of filling in the streets of downtown Orange, New Jersey, with apartment buildings would strengthen the community. Or you wonder how much enthusiasm residents of Keizer, Oregon, could muster for living atop the smelly compost-to-methane-fuel plant that Amale Andraos and Dan Wood would build there. Fair questions, all.
As a whole, though, the show merges daydreams with pragmatism. Bergdoll nipped at the visionaries' heels when they strayed too far into speculative territory. He handed them a statistics-rich research report prepared by the Buell Center and insisted that teams ground their reveries by figuring out what fire codes and zoning laws would have to be rewritten, what financing mechanisms would make projects feasible, where the residents of these brave new suburbs would work, how they would commute, and how much energy they would consume.
Jeanne Gang and her team propose dismantling a shuttered factory in Cicero, ­Illinois, and using its parts to build a Rubik's Cube of combinable living spaces, next to a checkerboard of gardens and vegetable plots. Two households could save money by sharing a kitchen, for instance, or a growing family could buy an extra bedroom. Andraos and Wood, of the firm WORKac, thread wilderness through a loose urban grid, so that foxes might roam among the high-rises and townhouses. Michael Bell would herd newcomers to Temple Terrace, Florida, into a pair of high-tech megastructures lifted above vast urban plazas. Zago turns the classic subdivision into a largely car-free cubist collage, with a shuttle bus ferrying residents to an L.A.-bound commuter train.
But precisely because the groups tackled their missions from multiple angles, they maximized the number of opponents who could prevent any of these projects from getting built. That's the paradox of trying to transform the suburbs: The only way to get it done is by rewriting laws, rationalizing markets, reforming the construction industry, and changing the culture all at once—which probably can't be done.
The exhibit springs from the belief (fleshed out in the Buell Center report) that fewer and fewer Americans have or want the lives that suburbs were designed for. Today, we mostly live alone, or share quarters with roommates and fluid configurations of relatives. We start kitchen-table businesses with vendors in China and customers all over the world. We're starting to think of the car not as a passport to independence but as a toxic jail cell. For decades, coveting a house you couldn't afford was a patriotic sentiment, an essential ingredient of the American Dream. Now millions of those houses have become crippling financial burdens, chits in a global game of poker, and incubators of suburban blight.