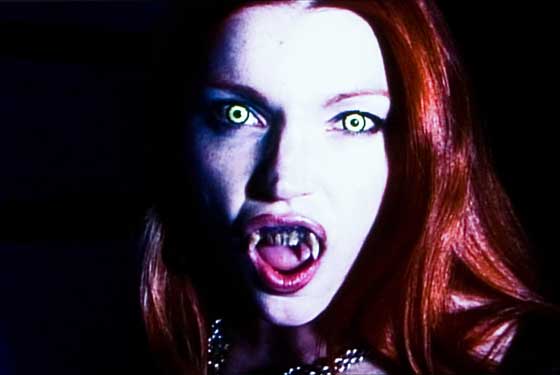 3. Christian Jankowski
The Kitchen; 512 W. 19th St. Through December 9.
Christian Jankowski's latest investigation of the ways that well-known film genres can insinuate themselves into everyday interactions looks at horror movies—but in giving random violence a redemptive backstory, he mostly takes the fun out of it. For the project Angels of Revenge (2006), he asked participants at a horror-film conference to write letters in which they imagine wreaking vengeance on people who have harmed or betrayed them; these revenge narratives are dramatized in a video and series of photographs. The show's centerpiece is the deadly sounding Lycan Theorized (2006), which Jankowski made in collaboration with the cast and crew of an actual straight-to-DVD werewolf movie. As the gory action unfolds, actors pause to recite bits of film theory; for example, one brutal scene is prefaced with the solemn proclamation, "Otherness represents that which bourgeois ideology cannot recognize or accept." It's funny, in a B-movie kind of way, but nothing that winking slasher sendups like Scream haven't done already.