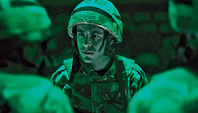 1. THEATRICAL EVENT OF THE YEAR
Black Watch
Hollywood filmmakers spent a lot of time and money this year trying to respond to the calamitous events of the world. Mainly they ended up with dry, earnest dramas: civics lessons on celluloid. A few Off Broadway plays got better results, from Ilan Hatsor's Masked (about three brothers in Gaza) and J. T. Rogers's The Overwhelming (about Americans fumbling through the Rwandan genocide) to Iphigenia 2.0, Charles Mee's harrowing rewrite of the Greek tragedy adapted to the Bush years. But for unsettling power, political punch, and just plain fun, nothing matched watching ten actors from the National Theatre of Scotland at St. Ann's Warehouse in Dumbo, where their performance of Gregory Burke's Black Watch made for the all-around best theatergoing of the year. Their grunt's-eye view of the war in Iraq combined interview transcripts with forays into the storied history of the Scots unit that gave the show its name. The result was an original and damning indictment of the American-led war. But unlike most of this year's plays—even some very good ones—it wasn't content merely to tell its story. Director John Tiffany unleashed the full arsenal of what a theater company can do: flaring video screens, choreographed sequences, songs, stuff blowing up, and a lot of heartfelt direct address to the audience, which drew us into the middle of the soldiers' hellish lives. The show wasn't just some gifted and thoughtful artists' attempt to address the world, it was a pulse-pounding defense of the form itself.
2. BEST RETRO TREND
New Straight Plays Thrive on Broadway
The fall season has turned Broadway's main drag into Serious Drama Alley, where four new plays are defying the gloomy drift toward revivals and tourist-happy musicals. Aaron Sorkin's The Farnsworth Invention, Conor McPherson's The Seafarer, Tom Stoppard's Rock and Roll, and Tracy Letts's August: Osage County all have their merits, but the latter two are flat-out triumphs. Stoppard has unfurled a multigenerational play about Czech politics and rock music; Letts has written a darkly funny and harrowing American family drama à la O'Neill (see review, page 64). Yet for all their differences, both are intensely personal creations, the playwrights' attempts to use their own experiences to quicken our sense of the times in which we live. Together, Stoppard and Letts—authors of the best plays New York saw this year—have made their block the smartest spot in town.
3. BEST MUSICAL
In the Heights
In the world of old-fashioned Broadway tuners, Jonathan Tunick's overture for LoveMusik, the show about the life and songs of Kurt Weill, offered five minutes of sublime beauty. Downtown, the Waterwell company achieved a messy kind of brilliance with The/King/Operetta, its show about the last year in the life of Martin Luther King Jr. The best musical of the year, however, did a remarkably persuasive job linking uptown and downtown—or, rather, uptown and way, way uptown. In the Heights uses salsa, hip-hop, and hints of Broadway balladry to capture a slice of Washington Heights onstage. Composer-narrator Lin-Manuel Miranda and librettist Quiara Alegria Hudes made this seem like the most natural fit in the world, even though nobody's ever mixed these elements quite so well. Best of all, a tweaked version of the show will bring these long-overdue sounds to Broadway in early 2008.
4. MOST EXCITING PERFORMANCE
Liev Schreiber in Talk Radio
You could fill a wall in the Theater Hall of Fame with the actors who polished their claims to greatness on Broadway in 2007: Frank Langella as a charmingly reptilian Tricky Dick in Frost/Nixon, Christopher Plummer as the wily lawyer who knows every angle there is in Inherit the Wind, and Kevin Kline returning to form with his dashing, eloquent role in Cyrano de Bergerac (to say nothing of André De Shields, who is currently out-preaching the preacher and out–James Brown–ing James Brown in Langston Hughes's Black Nativity Off Broadway). But the most exciting performance of the year came from Liev Schreiber, who took his biggest step yet toward joining their ranks. With a charismatic, sulfurous turn as a shock jock in Eric Bogosian's Talk Radio, he showed that he can carry a show in a Broadway theater, not least by mesmerizing everybody in it. The force, the grace, and above all the voice: He's got all the equipment he needs to rule Broadway one day.
5. MOST DURABLY CHARMING ANTI-ROMANCE
Henry Higgins and Eliza Doolittle (Whether They're Singing or Not)
For sheer theatergoing delight, few evenings this year matched the Philharmonic's staged concert version of My Fair Lady, starring Kelsey Grammer and the luminous Kelli O'Hara as Professor Higgins and Eliza Doolittle. But one show that came close was the Roundabout's revival of George Bernard Shaw's Pygmalion, the play that inspired the musical. The always-excellent Jefferson Mays and agreeably poised Claire Danes captured the charm and comedy of Higgins and Eliza's not-quite-love affair. The story proves so timeless—and their performances so fine—that as wonderful as "I Could Have Danced All Night" sounded at the Philharmonic, you didn't miss it at the Roundabout.