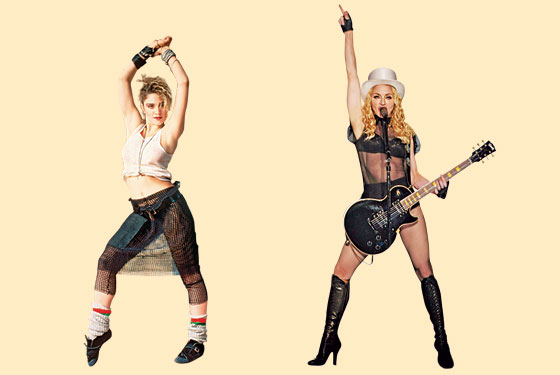 Now, bear in mind, for many years I adored Madonna, defended her to strangers—I was a fan, if not quite a wannabe. I graduated from high school the year Madonna exploded, and even in that initial incarnation it was clear that the woman was going to be a living collect-them-all doll collection. She seemed to shoot out new selves every six months—from Jellybean Benitez Madonna to Madonna of the Boy Toy Belt, Unshaved Leaked Photos Madonna, Madonna masturbating on a wedding cake, bouncing beside the waves in "Cherish," dancing with the little boy in "Open Your Heart," Who's That Girl Eyebrows Madonna, Ideal Brunette Madonna (my favorite) saving Black Jesus in that incredible slip, Banned by the Pope! Madonna, "Vogue" Madonna, Fritz Lang Madonna, Wrapped-Plastic Sex-Book Madonna, Shame-Free BDSM Madonna, Sandra Bernhard–BFF Madonna, Bratty Letterman-Taunting Madonna, Self-Mocking Wayne's World Madonna, the Madonna Who Ate Your Exotic Culture ("Vogue," "Rain," "La Isla Bonita"), Abused Sean Penn Madonna of the Helicopters, Contrarian I'm Gonna Keep My Baby Teen-Slut Madonna, Secretly Pregnant While Filming Evita Madonna, Underappreciated Dick Tracy/Sondheim Madonna, Water-Bottle-Fellating Truth or Dare Madonna (with Warren Beatty accessory), Bad Actress Madonna (Wax-Coated/Mamet), Momma Madonna, Kabbalah Esther, British Madge, and on and on.
For years, Madonna felt like a slippery, elegant key to all feminine mythologies, a shape-shifter inspiring to any young girl (or anyone) who felt her shape shifting. In high school, I was friends with a Madonna wannabe, a girl who jumped right on the underwear-as-outerwear phenomenon. At a party, she confided in me about kissing strangers: She loved that BOY TOY belt Madonna wore—she got the humor of it, the wink. For so many women I knew, she was a living permission slip, suggesting not bravery, exactly, but something more accessible: bravado.
Besides, her music was fun to dance to and she fit nicely with a lot of things I liked, like third-wave feminism and reclaiming words like slut and queer. Half her songs were about orgasm ("Borderline," "Like a Virgin"), way before Christina Aguilera and Lady Gaga. And she had an intriguing ability to inspire startling hostility and contempt in men. One hippie-ish boyfriend hated her but couldn't say why, almost stuttering as he tried to explain: She seemed to be taunting him, he decided. A male friend who did like Madonna told me he felt required to have sex with her if asked: "It would be like being seduced by PepsiCo." (He meant this as a compliment.)
I enjoyed mouthing off in her defense right through the whole plastic-wrapped Sex-book period, until suddenly, somewhere in the late nineties, something bad started happening to my beloved multiple Madonnas, and my loyalty was severely tested.
The first shock was the morning I flipped through her children's book The English Roses in the now-closed Astor Place Barnes & Noble. The English Roses was the story of a sweet and perfect girl, Binah, picked on by a clique of jealous conformists. Then a fairy visits them and they discover that Binah is not merely prettier, but also kinder, simply better in every way, and they are ashamed when they peer through her window, only to discover that (a) she had no mother, and (b) she worked very, very hard.
It was her daughter Lourdes's envied-child-of-the-famous story braided into Madonna's tragic history of having lost her mother as a child—and the moral was that if you didn't like someone, you were just jealous. Except the book seemed oddly bullying in itself (the Roses were named after girls who went to school with Lourdes, after all). And the protagonist was the blandest, most passive good-girl on Earth, the opposite of Madonna: Patient Griselda Madonna, not Susan.
This was something new. Madonna had always been preachy (which kind of worked during the sadomasochism-is-freedom stage, when she chanted, "I ain't your bitch / don't hang your shit on me"), but now she'd turned downright sanctimonious—and worse, Millennium Madonna, unlike earlier Madonnas, was chiding her former selves instead of shedding them, turning those baby Madonnas (skanky, effervescently selfish visions!) into lessons. For a while, I wavered between Madonna Love and Madonna Hate. I did not much like British Madge, but I was okay with the pathos of the Guy Ritchie Swept Away era—there was something affecting about Madonna's failure to be a movie star (her bossy self always poking through), and all those quotes about learning to compromise. That wasn't very Madonna, but it's not like I wanted Madonna to have a bad marriage. And who doesn't want to share, to grow? It's good to be unselfish!
But soon the bad Madonnas were pouring out in a rush: Lady of the Countryside Madonna, Tone-Deaf Antiwar Madonna, and particularly Hard Body and Plastic Surgery Madonna of the Purple Bodysuit. There were elements of this stream of Madonnas that I admired and feared, kind of the same thing when it comes to Madonna. There was Never Grow Old Madonna, turning 50. There was Healthy Yoga Madonna, which I couldn't trust, because she was hard to distinguish from Baby-Cheeks Botox Madonna. There was Momma Madonna, to whom I was sympathetic, and I didn't have a problem with the Malawi thing per se, although it didn't look great from the outside.