GREATEST MOMENTS IN SHOWRUNNER HISTORY
Mike Schur: When Coach died on Cheers and Woody Harrelson just showed up and started working and there was no stutter step even. Vic Mackey shooting Terry Crowley in the pilot of The Shield—breathtaking and kind of insane: The show's hero kills a fellow cop in the first episode! It was the difference between a really good, compelling, well-written show and legendary TV. The addition of Giancarlo Esposito's character on Breaking Bad. Up to that point, you didn't understand how big the crystal-meth business is or where the main characters fit in. That ticked the show up a whole level for me. And when Tony Soprano killed Christopher in The Sopranos' final season—at once inevitable and shocking.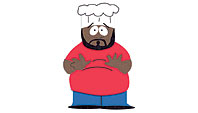 Kevin Biegel: South Park's handling of Chef, when Isaac Hayes left. Parker and Stone could have ignored it, or been petty and mean, or mad. Instead, the episode was sweet, bewildered, sad, and incredibly loving. Chef shit himself when he died—I thought it was perfect. Also, every time Miami Vice was funny: I have always been impressed that it could be badass and humorous at the same time. And how Jason Katims and his staff at Friday Night Lights made every damn game exciting, even though almost every one included some version of "The Lions/ Panthers are down with three seconds to go."
Craig Thomas: There are so many daring Buffy the Vampire Slayer moments, like the musical episode, or the one with no talking at all, or when Buffy's mother dies and there's not one drop of music, creating an eerie silence that felt all too real. Each announced "Wake up, people, we're doing something different!"




Graham Yost: The "Walkabout" episode of Lost in the first season, when they reveal that John Locke was paralyzed but can walk on the island. When the character played by Diana Muldaur on L.A. Law fell down the elevator shaft to her death—at once dramatic and absurd; twenty years later, and I'm still laughing. And I'm one of the few people who liked the end of St. Elsewhere. I understand why people hate it—it feels like a cheat—but it's a TV series, and let's have room for a little poetry.
Bill Lawrence: Colonel Henry Blake dies on M.A.S.H., and Radar tells the cast and audience simultaneously. Woody replaces Coach on Cheers. Arrested Development—the first TV show only for comedy writers.





Michelle King: The creation of Archie Bunker. That you could build a whole world around a racist is one of the chanciest things imaginable.
Dan Harmon: Cheers, because they proved lack of flukiness over and over—not only Woody replacing Coach, but the huge will-they-or-won't-they between Sam and Diane. And then they jumped the shark and did it and it was still great. And Frasier becoming a lovable character.
Kurt Sutter: Tony killing Big Pussy in The Sopranos—to see one anti-hero knock off another—and a regular—was huge.
When Dick Van Dyke skips around the ottoman during the intro, after tripping over it for the first few seasons. It was the first time I thought, Oh, there's someone making creative choices behind the scenes. Ultimately, I heard it was because he got sober—that was his acknowledgment, to say, "Hey, I'm not tripping over shit anymore."