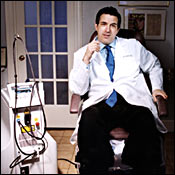 The doctor is in: A radiologist, Everett Lautin now does laser hair removal.

Not all doctors are welcoming the cosmetic newcomers. A turf war is brewing over the lucrative area of aesthetics. Dapper Madison Avenue dermatologist Steven Victor is not smiling when we encounter him at his "rejuvenation center," where he offers vitamin shots to eradicate cellulite, as well as Botox, collagen, and a full artillery of lasers. He used to give a postgraduate course in cosmetic dermatology but has decided to stop sharing his knowledge. "My enrollees were gynecologists, cardiovascular surgeons, pediatricians. I even had a psychiatrist," he rails, his face reddening. "I don't think it's ethical. Some of these guys are taking a course and watching — not even doing — the procedures. Then they go out and buy the instruments. It would be like me doing brain surgery. My medical license says I can."

Gerald Imber, a well-respected cosmetic surgeon who caters to a good chunk of New York society, tells how he recently got a call from a physician in Los Angeles, asking if he would be good enough to remove stitches from one of his patients who had received a hair transplant and would be in New York. "I looked into who this doctor was, and he turned out to be an eye doctor," says the incredulous Imber. "The best part was that he asked me not to steal his patient."

"You know what I'm doing today?" asks Suzanne Levine, a podiatric surgeon who looks something like Debbie Harry. She and her partner, Everett Lautin, a radiologist, call their office "Institute Beauté," where he offers Botox, laser hair removal, and facial rejuvenation, and she performs callus-blasting microdermabrasion and gives collagen injections to cushion the foot. "I'm at Bergdorf giving foot facials. I'm bringing my services to their Buff Spa two days a week. We also give out Orthochics — inserts you wear with Manolos and Jimmy Choos. Very fashionable." She smiles. "My gynecologist is doing laser hair removal now. I find that strange, but, you know, when I was in for a checkup, it was right there, and I was tempted to do it. I'm busy, and I like one-stop shopping."

Lautin has just returned from lecturing in Mexico at a convention of plastic surgeons. A radiologist for nearly 30 years, he did procedures such as angiograms and biopsies with cat-scan guidance, and, until last summer, trained residents and medical students. When he hit 50 and was suddenly single after a divorce, he became fascinated with youth-enhancing lasers and injections and began trying them out on himself.

"I was back in the dating field, lonely and out there," he recalls. "I related to people who wanted these new procedures. I actually meet women now through my patients, and we've introduced a fair amount of our patients to other people. We've ended up with a dating service as well as a practice."

Jamé Heskett, a perky, L.A.-born 33-year-old who, with her blue eyes and blonde hair, looks more catalogue model than doctor, delivered more than 300 babies as a family practitioner in Seattle. She liked to integrate holistic therapies into her patient care, which did not go over well with her local hospital, she says. So she bought a spa on Madison Avenue that specialized in endermologie, the vacuumlike treatment meant to combat cellulite. She calls her office Wellpath and practices a female-focused mix of Western medicine, holistic therapies, nutrition, and anti-aging treatments in an environment that feels like a Middle Eastern caravan, with Arabian tents and wafting aromas. "Obviously, we use the endermologie cosmetically, but we also use it for therapeutic purposes. It really helps with arthritis, fibromyalgia, and circulatory problems," she maintains. In addition to Pap smears, breast exams, nutritional counseling, and blood analysis, Wellpath will be adding facial laser resurfacing, to diminish wrinkles.

These added cosmetic services don't always make a seamless fit. Jay Matut's West 77th Street OB/GYN practice is filled with women in various stages of pregnancy and others there for their regular checkups. Matut is now offering a new cutting-edge product, but it has nothing to do with birth control or hormone replacement. The Brava system is a set of suction domes that fit into a bra-shaped contraption. If you wear it ten hours a day for ten weeks, your breasts are supposed to increase a full cup size. "We've got the patient profile," says Matut defensively. He says that he and his partners are also considering providing laser hair removal.

Michael A. Boxer, a model-dating ophthalmologist, sits on a bench in East Hampton sunning himself after a recent spinning class. "I took a course in CO2 laser resurfacing of the skin, and I'm now certified to do it," he says. "I see mostly cataract patients, and I can only charge what Medicare tells me. My cataract fees were between $2,500 and $3,500; now my reimbursement is $700 to $1,000, and that includes three months of postoperative care. I'm sitting in an office with very expensive equipment. There are lots of doctors who have a hard time saying no to giving a quick Botox injection when the remuneration is $400 to $500."

Bobby DiPilla and Peter Rinaldi, partners of cosmetic dentist Larry Rosenthal, are at the bar of Bella Blu, fresh from a trip to London and flashing smiles as perfect as Christie Brinkley's (she's a patient). Their visit was co-sponsored by Q-Med Esthetics, a company that markets the wrinkle filler Restylane to dentists in England, with plans to expand into the U.S. "There's a paradigm shift," DiPilla says enthusiastically. "Who better to inject silicone, collagen, or fat into areas around the mouth than an aesthetic dentist who knows nerve intervention in the area. You get your teeth done and then the lines around your face."

The two, along with Steven Victor and plastic surgeon Thomas Romo, are planning a network of rejuvenation centers. "We're opening them in Moscow, Palm Beach, London, Paris, and Milan," says DiPilla. "People can fly to a great locale and in a week look fifteen years younger. It's really exciting. We'll have cosmetic dentistry, plastics, anti-aging, and nutrition. We may also have connecting wellness centers with yoga and Pilates. Money is part of it, but it's a good marriage."

"Not all doctors are into this stuff," Rinaldi points out. "We have one patient who is an old-school dermatologist in New Jersey. She just wants to cut out cancer. But there's still a need for those people, too."

Cheryl Ackerman, the doctor in question, is concerned about her profession and the fact that a lot of the big cosmetic dermatologists don't even bother to become board certified. "I think it's a big problem that a lot of these guys don't know regular dermatology and don't do body scans. I'm turning up a couple of melanomas a week."

Ironically, it was the now-aggrieved plastic surgeons and dermatologists who blurred the borders of aesthetic medicine to begin with, as plastic surgeons edged into dermatological turf by launching skin-care lines and dermatologists started doing liposuction, formerly the realm of plastic surgery. Anyone with a medical license can perform procedures outside of his specialty, and there is no set guideline for qualifications.

"People are taking out ads, calling themselves 'board certified,' but they can be certified in a completely different area from the one in which they are working," says Richard Palu, an ophthalmic plastic surgeon. "And since the environment has become more competitive, there's so much mudslinging it's like the Academy Awards."

There's even controversy over who can use the term "plastic surgeon." Ear-nose-and-throat doctors are not technically board certified in plastic surgery, but some call themselves "facial plastic surgeons" — a move that's infuriating some plastic surgeons, who are trying to pass a scope-of-practice bill in Albany to prevent them from doing so.

While the merits of training in some procedures can be measured by schooling, a lot of the techniques weren't around when most of the top doctors now practicing went to school.

"When we did our residencies, Botox and cosmetic lasers didn't exist," says Barry Drucker, a Bayside, Queens–based ophthalmic surgeon who does cosmetic eyelid operations. "We are all learning these procedures at the same rate."

"I was one of the first to get the liposuction machine from Paris back in the eighties," recalls Rhoda Narins. "The plastic surgeons all gave me a hard time because I was a dermatologist, but they hadn't learned liposuction in school. I started teaching a course, and they showed up. Now they send me their wives."

"Dermatologists didn't go the surgery route in school, and they don't have real surgical training," insists Thomas Romo, head of facial plastic surgery at Lenox Hill. "But now they think that anything under the skin is their domain."


Next page:
"A gym is not the proper environment for Botox."
(
1
|
2
| 3 |
4
)
Photo by Patrik Andersson.
From the May 27, 2002 issue of New York Magazine.