Restaurant Reviews
Openings & Buzz
In Season: Weekly Recipe
Underground Gourmet
Ask Gael
Restaurant Roundups
Best of NY Food Picks
Where to Eat 2005
Uptown Delivery Guide
Cheap Eats
Recipe Archive

Restaurant Insider

Weekly e-mail with reviews, recipes, and restaurant news and openings.

Sign Up

Restaurants
Week of January 7, 2002
Tongue in Chic
Bat's got your tongue: Babbo's pickled calf's tongue.
"Excuse me, can I ask you what that is? It looks wonderful," said the blonde drinking a blood-orange Bellini and eyeing my plate at the bar at Babbo recently. "Sure, it's calf's-tongue peperonata, and it's amazing," I said. A pause. "You don't think it's wonderful anymore, do you?" I asked. "No," she said coldly, immediately relinquishing her coveted bar stool. In spite of this setback, tongue, that old delicatessen-case monster meat, is hot these days, turning up on some of the best menus. "I think the real tongue lovers are still the older crowd," says chef Mario Batali, "but at this point, people at Babbo will try just about anything." Then I tell him about the woman who fled his restaurant at the sight of a calf's tongue. "She'll come back," he says, "just to be freaked out again -- it's like scary movies." These beautifully prepared, artfully presented dishes shouldn't frighten you out of your seat. Really. --ROB PATRONITE

The Harrison
After much continuing success with brains, tripe, and "little rabbit kidneys served over polenta" at the Red Cat, chef Jimmy Bradley has turned his attention to braised lamb's tongue sautéed with cremini mushrooms, deglazed with Barolo, and served as an appetizer on grilled bread ($8).
355 Greenwich Street
212-274-9310

Babbo
Evidently, Mario "Beef Cheeks" Batali inherited his way with variety meats. The recipe for his lingua salmistrata, or pickled calf's tongue with winter radishes and salsa verde (pictured, $13), one of several dishes that feature tongue on the menu, comes courtesy of his father, Armandino.
110 Waverly Place
212-777-0303

Town
Geoffrey Zakarian stuffs exceptionally rich and tender slow-braised veal tongue "Basque-style" with curry, potato, leeks, and onion, and serves with a radish-and-artichoke salad ($25). "I love tongue," Zakarian says, "but I thought for sure the staff and I would be eating this dish." Instead, they have to share with a ravenous dining public.
15 West 56th Street
212-582-4445

AKA Cafe
Not necessarily suitable for Junior's lunchbox: thin-sliced-lamb's-tongue sandwich with almond butter and red-currant jelly ($7).
49 Clinton Street
212-979-6096

Chanterelle
"There are certain things I put on my menu because I like them, although I realize no one may order them," says chef-owner David Waltuck. "Calf's brain is one, tongue is another." The latter occasionally appears on Chanterelle's $73 prix fixe menu in the elegantly rustic form of a terrine of thinly sliced smoked beef tongue layered with foie gras and served with sourdough toasts.
2 Harrison Street
212-966-6960

Two Times a Chef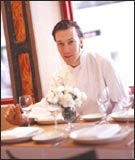 If you're an enterprising young chef, it must be tough running only one kitchen these days -- friends and colleagues might think you're a slacker. With the February 1 opening of his Alias Restaurant, a more ambitious sibling to the terrific AKA Cafe (both offshoots of 71 Clinton Fresh Food), Scott Ehrlich (pictured) joins the ranks of chef-nomads like Mario Batali and Tom Colicchio, wandering tocques who hustle from one hot spot to another on a nightly basis. Since Alias (formerly a Latino rice and beanery also called Alias) is only half a block south of AKA, Ehrlich doesn't have far to go -- a good thing if you wear clogs to the office. There, in a dining room designed by Takehiro Murao, the architect responsible for Jewel Bako, and a kitchen twice the size of AKA's, he'll have more room to experiment with clever pan-American bistro dishes like fried rabbit and waffles, skate fish cakes, and, in tribute to a fading Lower East Side industry, a pickle-plate appetizer.
Alias
76 Clinton Street

Ask Gael
Is there a new world view on the Upper West Side?
With the launch of his couturier baby foods at Avenue, an uptown dining mecca for stroller moms and their mates, I decided owner Scott Q. Campbell must see his mission as bringing a little class to the steppes of West Side Manhattan. Sure enough, @SQC brings cool style and quite good food to a stretch of real estate that has been a little triste since the Silver Palate closed. Tiny tables tucked ingenuously close barely have space for a wonderful endive salad with Roquefort and green apples or a spiffy Caesar, plus the offering of crisps and focaccia, a timbale of eggplant-and-sesame dip, and my fragrant stuffed chicken. Silly slate rectangles for side dishes and desserts squeeze onto (and teeter on) crowded tabletops where simple rounds just won't fit. But an apple tart with caramel and ice cream in three acts is wondrously good. Ditto frites in parchment.
@SQC
270 Columbus Avenue, near 72nd Street
212-579-0100
Bites & Buzz Archive
Week of December 31
Creative cocktails at the Vivian Beaumont; Oceana's sweet sea urchin custard; Beppe gets a visit from Mama; Picholine shines
Week of December 17
5 spots for New Year's Eve; French-Carribean cooking at La Brunette; Christmas Eve fishfest; take Payard home for Christmas; Boerum Hill's new bakery; Gael favorite cookbooks
Week of December 10
Urban hippie cuisine; Good Humor meets D'Artagnan; wood pigeon pie, and hot dogs — the new latte?





Photos: From top to bottom- Bettmann (Corbis);Patrik Rytikangas; Kenneth Chen; Andre Souroujon; Carina Salvi; Liz Steger