Restaurant Reviews
Openings & Buzz
In Season: Weekly Recipe
Underground Gourmet
Ask Gael
Restaurant Roundups
Best of NY Food Picks
Where to Eat 2005
Uptown Delivery Guide
Cheap Eats
Recipe Archive

Restaurant Insider

Weekly e-mail with reviews, recipes, and restaurant news and openings.

Sign Up

Restaurants
Week of February 11, 2002
Goooooooooaaaaaaaal!
Nothing against John Madden and his Ultimate Tailgating cookbook, but some of the most talented cooks, the Underground Gourmet has discovered, are rabid soccer fans. Our method is to look for an unassuming café with a group of tracksuit-wearing men huddled around a VCR showing a foreign match, the way you might look for a pileup of taxis outside a Pakistani joint and wander in for a good cheap feed. The latest example to prove this theory is Hadom, a terrific Middle Eastern-Israeli restaurant and bar in the West Village that replaced the short-lived Mi Va Mi last month. Zack Cohen, who used to run Hoomoos Asli in SoHo, named his new place for the Hebrew word for "red," which happens to be the team color of his favorite soccer club, Tel Aviv's Red Devils. Although the restaurant's walls aren't painted that shade, the waitresses and the cooks wear it, and a red rose adorns each tabletop. Despite this obsession, Cohen pays a lot of attention to what's going on in the kitchen. You can easily overdose on the excellent fresh salads; hummus (the specialty of the house); and homemade pita, or even better, malawach, the warm, buttery, multilayered fried flatbread; not to mention condiments, especially the bright green zhoug, the Yemenite hot sauce that's good for dunking, smearing, and dousing everything from the chicken soup to the falafel. Perhaps the best way to appreciate Hadom's charms, though, is at a weekend brunch, when the kitchen puts out first-rate renditions of special Shabbat dishes, like a hearty cholent and jachnun (pictured), a moist pastry dough tightly wound and served with hard-boiled egg, puréed tomato, and zhoug. — ROB PATRONITE
Hadom
137 Seventh Avenue South
212-206-7374

first taste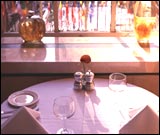 In the Heart of Midtown
In direct contravention of Bryan Miller's First Law of Cuisine-i.e., the food improves in inverse proportion to a restaurant's altitude- Pulse, recently opened to the public at the Sports Club/LA at Rockefeller Center, offers powerhouse flavors on the third floor, overlooking the skating rink. Working under the management of the ubiquitous (if recently less omnivorous) Drew Nieporent, chef Scott Barton has fashioned a health-conscious fusion menu, with items like sea-scallop wontons with umeboshi plum vinaigrette, a bright and restorative roast pork tenderloin with soba, and crunchy and perky coconut-and-cilantro-crusted salmon with spiced tomato jam. Free with your meal: the same view Jack Welch had from his office, without those pesky stockholders to bother you.
Pulse
45 Rockefeller Plaza
212-218-8666


best of the week
Mardi Gras at Café Boulud
Louisiana gumbo yaya and crawfish étouffée are the heart of chef Daniel Boulud's special February 12 menu. But your waitress is unlikely to be impressed if you leave a few strands of plastic beads instead of a tip.
Café Boulud
20 E. 76th Street
212-772-2600
shopping
What a Sweet Couple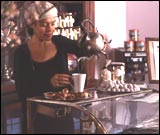 Before Maribel Lieberman and Selima Salaun opened the quirky NoLIta boutique Lunettes et Chocolat, there was (gasp!) nowhere for nearsighted chocoholics to nibble on cognac truffles while selecting a pair of designer eyeglasses. Now Lieberman (pictured) has branched out with MarieBelle's Fine Treats and Chocolates, a shop with an equally unusual inventory: artfully packaged bars and bonbons, plus scarves and textiles designed by Lieberman's husband, Jacques. In this larger location, there's room for tables, chairs, and a new cacao bar, where her signature ultracreamy hot chocolate comes in four flavors: original Aztec, espresso, chili-spiced, and extra-dark.
MarieBelle's Fine Treats and Chocolates
484 Broome Street
212-925-6999

in print
Welcome to My Kitchen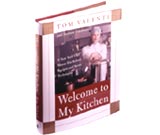 Tom Valenti has braised and roasted his way from Alison on Dominick to Ouest, serving the sort of hearty, slow-cooked meals you wish you could make at home. Thanks to his new cookbook, Welcome to My Kitchen (HarperCollins; $29.95), you can-while discovering along the way the chef's unabashed passion for iceberg lettuce, white vinegar, Cuban sandwiches, and octopus, not to mention his "love affair with bacon," which he consummates promiscuously throughout the book, in recipes for everything from sea scallops to sweet-pea stew. Along the way, Valenti dispenses helpful hints: Don't skimp on the garlic. Disconnect the smoke detector before attempting the charred-lamb salad. Eat risotto from the outside in. And because "when panfrying soft-shell crabs, things can get a little dangerous," pierce the extremities first with a pin. He presents a convincing argument for making your own stock (in one hour!), and reveals something we'd suspected all along-"all bottled waters are not created equal." He even shares the secret of his signature lamb shanks' the "Free Bird" of his repertoire. If everyone can make them, he must be thinking, maybe he won't have to.
Ask Gael
Discovered any new talent?
This is not what we expect on lovelorn First Avenue. Our fussy eaters warm up in romantic serenity at Lawrence Scott, with its colorful Sol LeWitt and the command of the namesake chef. Scott's youthful odyssey through the kitchens of the Crillon, Lucas Carton, and Ducasse in Monte Carlo (ended by the motorcycle crash that left him paraplegic) shows in his tuna-carpaccio salad, in the perfect glazing of diver scallops with Yukon Gold-potato salad, and in his gorgeous lamb shank-moist and caramelized and wearing radicchio feathers. At times, the kitchen is slow, and dishes arrive cool. (It seems the sous-chef was out that night.) The duck-confit lasagna is undisciplined but delicious, and the deconstructed pear-and-blue-cheese salad would be better tossed. But the pork-loin Cubano and roasted salmon on bacon-spiked cabbage are fine. A '95 Saint-Julien none of us ever heard of, Château Teynac, is a steal at $35. And the trio of chocolate-ice-cream sandwiches is just enough to share.
Lawrence Scott
1363 First Avenue, near 73rd Street
212-396-4555
Bites & Buzz Archive
Week of February 4
Savoia's dream team; Bid on Valentine's Day; Dim Sum Go Go celebrates the Year of the Horse ; City Bakery's "Love Potion"; Brian McNally opts for simplicity
Week of January 28
A Royal feast; Valentine's Day at Daniel; Le Zinc's devilish treat; Brooklyn's answer to Balducci's; Gael's cure for the mid-winter blues
Week of January 14
Craft's new offshoot; a taste of Burgundy's best; Gael on Harlem's renaissance





Photos: From top to bottom- Patrik Rytikangas; Kenneth Chen (2); Carina Salvi