Restaurant Reviews
Openings & Buzz
In Season: Weekly Recipe
Underground Gourmet
Ask Gael
Restaurant Roundups
Best of NY Food Picks
Where to Eat 2005
Uptown Delivery Guide
Cheap Eats
Recipe Archive

Restaurant Insider

Weekly e-mail with reviews, recipes, and restaurant news and openings.

Sign Up

Restaurants
Week of May 6, 2002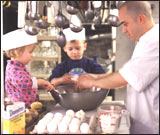 Mother's little helpers: Breakfast-in-bed basics at the Minnow's "Little Buddy" cooking classes.


Mother's Day Dining
There is a certain type of Mom for whom Mother's Day means one thing and one thing only: brunch at Tavern-on-the-Green, the mother of all Mother's Day venues. Call her the Traditional Mom or the Old-Fashioned Mom. She will accept no substitutes, and if you haven't made your reservation by now, you'll witness her sudden transformation into the Guilt-Tripping Mom. On the bright side, there's a Mother's Day menu for every personality type.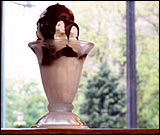 Cold Comfort


The Brooklyn Ice Cream Factory opened last fall with a streamlined assortment of classic, all-natural flavors, a spectacular location in a twenties fireboat house on the Brooklyn waterfront, and the financial backing of the River Café next door, where, unbeknownst to many, pastry chef Ellen Sternau concocts all the factory's toppings and syrups. The only thing missing, until recently, was hot fudge, a glaring omission for certain sundae enthusiasts. "It's one of the hardest things to get right," says perfectionist ice-cream maker Mark Thompson, who tasted the store-bought competition and charged Sternau with improving on it. She rose to the challenge, using high-grade Michel Cluizel chocolate with a 72 percent cacao content for deep, dark fudge that's worth the wait -- and a walk across the Brooklyn Bridge.
Brooklyn Ice Cream Factory
Fulton Ferry Landing, Brooklyn
718-246-3963
best of the week
Tribeca Festeja at Pico
To coincide with the Tribeca Film Festival (which runs through May 12), Pico restaurant will be offering this special prix fixe lunch and dinner menu. Hungry cineasts can expect Portuguese-inflected fare like roasted suckling pig, chilled almond-and-grape soup, and a frozen banana soufflé.
Pico
349 Greenwich Street
212-343-0700
object of desire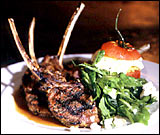 Tempesta in a Tomato
Arezzo's wood-oven-roasted rack of Colorado lamb would be the perfect, simple springtime dish if only that delinquent season would grace us with its presence. Chef Margherita Aloi rubs the lamb with thyme, sage, and rosemary and serves the fine, flavorful pink meat with pea shoots and a vine-ripe tomato, blanched and stuffed with a luscious mixture of goat cheese and an extra-large-grain couscous that she calls tempesta ("hail" in Italian), perhaps in an attempt to summon some precipitation and do something about the drought.
Arezzo
46 West 22nd Street
212-206-0555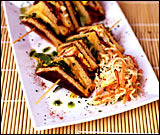 Happy Meals


The owners of Double Happiness and Happy Ending specialize in converting quasi-notorious neighborhood landmarks -- a Little Italy "social club" in the first case, a Chinatown "men's health club" in the second -- into stylishly low-key lounges. They also own the popular restaurant Wyanoka, where chef-partner Chris Santos cooks aggressively flavored Asian- and Latino-accented food that's a perfect match for the Lower East Side locale. He's just introduced a delectable bar-food menu at Happy Ending, where the staff seems to be adjusting to the idea of serving toothsome barbecued-duck-confit empanadas, assembly-required Thai beef-lettuce wraps, and a lobster club with citrus-saffron rouille (pictured) in addition to martinis and Sierra Nevadas. "You want to start a tab?" asked our waitress, after we placed our dinner order.
Happy Ending
302 Broome Street
212-334-9676

Ask Gael
How about a new address for Chinese in midtown?
Cinnabar puzzles me. How sexy it is, with shadowy light, bare black tables, and tangles of curly willow branches lit from below. I'm wild for the shrimp-watercress dumplings and "flattened" duck from the barbecue. It's a kick watching the wok-play in the open kitchen. And the candied-ginger cooler is my new favorite cocktail. Here is lobster Cantonese, revived from our childhood. Razor clams in black-bean sauce and sensational Dungeness crab with ginger are musts. The lyrically complex Ma Po bean curd isn't Szechuan-torrid, but it's delicious. In fact, the place is retro, avant-garde, Hong Kong (let us wallow in our duck-salad mayo), and an homage to Shun Lee, all at once. Right now, the kitchen is scoring two out of three triumphs. But already the peppery thrill of the wonton chips has been tamed. Bad sign. And that post-millennial elevator music must go.
Cinnabar
235 West 56th Street
212-399-1100
Bites & Buzz Archive
Week of April 29
The China Fun heir; bar dining at D'Artagnan; the first annual sake summit; can Compass find the way?
Week of April 22
Tribeca's Bubby-que; '44' gets some South Beach sizzle; Batali's new book; Gael's déjà vu at Washington Park
Week of April 15
NYC's new water pressure; Is Blue Smoke the way to hog heaven?



Photos: From top to bottom- Carina Salvi (2); Kenneth Chen (2); Patrik Rytikangas