Restaurant Reviews
Openings & Buzz
In Season: Weekly Recipe
Underground Gourmet
Ask Gael
Restaurant Roundups
Best of NY Food Picks
Where to Eat 2005
Uptown Delivery Guide
Cheap Eats
Recipe Archive

Restaurant Insider

Weekly e-mail with reviews, recipes, and restaurant news and openings.

Sign Up

Restaurants
Week of May 27, 2002
object of desire
Mo' Better Blues
Just as certain gastronomes like to debate the origin of the dish lobster à l'américaine — is it the result of a mix-up at the menu printer's involving the word Armoricaine, meaning Breton, or simply a lucky mistake by a Yankee chef? — others like to get right to the meat of the matter: Which is the tastier lobster, the European blue variety or the American (or Maine lobster)? According to Le Périgord chef Jacques Qualin, it's the "sweeter, firmer, more flavorful" (and thus superior) European species. To prove it, he's offering a special four-course $85 menu through mid-June, featuring the not-often-imported Brittany blue and including a lovely lobster consommé; slices of poached lobster with tomato concassé, foie gras mousse, and sweet cicely; and roasted lobster in a ravigote sauce and nestled in a springy mix of wild asparagus, favas, and fresh peas with a side of fresh linguine made with the lobster's roe. For dessert, you may continue with the theme by choosing a mysterious azure-colored floating island from the dessert trolley.
Le Périgord
405 East 52nd Street
212-755-6244
event
Back by Popular Demand
Summer Restaurant Week runs from June 24 through June 28. The complete list of restaurants offering a $20.02 lunch will be available on May 28 at www.nycvisit.com.
best of the week
Taste of Tribeca
The eighth annual Taste of Tribeca overtakes the cul-de-sac of Duane Street to supply tastings from the likes of Chanterelle and the Odeon. The whole thing benefits the art programs of P.S. 234 and 150 (both of which spent five months in temporary quarters after September 11). Tickets are only $35. (June 1; call Ticketmaster at 212-307-7171.)
prix fixe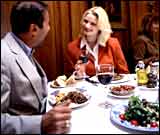 It's a Deal
When he failed to land a backer in the fiscal drought, restaurateur Frank Valenza decided to test his new Italian-steakhouse concept and its $20 prix fixe lunch at wife Marlies Jung's fiercely romantic Restaurant 222. Far from the rutted lunch-hour circuit, the jewel-box spot is a discreet hideaway, perfect for inside traders or trysting lovers. I've got doubts though. I fear the sauces — mushroom, pizzaiola, nutted garlic — will swamp the fillet, a normally bland cut designed for sissies. So what a pleasant shock to bite into richly flavored beef-tender, juicy, meaty, and rare. "It's my own butchering secret," Valenza boasts. Caramelized onions in a savory jus are not cloying at all, and Parmesan whipped potatoes alongside are impossible to resist. Char-grilled sea scallops with penne in a vibrant puttanesca sauce please my cholesterol-wary guest. It's a stunning deal. Olives and grape tomatoes in spicy green oil, a toss of baby greens, sorbet, and coffee are all gifts with purchase. — GAEL GREENE
Restaurant 222
222 West 79th Street
212-799-0400



Citymeals-on-Wheels Salute


Every spring, just after the Rockefeller Center skating rink morphs into a lush sunken garden, the nation's top culinary talent congregates below the statue of Prometheus to meet their adoring public, swap industry gossip, and raise money for Citymeals-on-Wheels, the organization that prepares and delivers food to homebound elderly New Yorkers. The theme of the fifteenth annual America's Greatest Chefs Salute Citymeals-on-Wheels, to be held on Monday, June 3, is "From Sea to Shining Sea," a motif reflected in a series of nautical flags designed by David Rockwell to identify each participating restaurant. Iconic American chefs like Larry Forgione, Jonathan Waxman, and Alice Waters, along with immigrant peers like Nobu Matsuhisa and Daniel Boulud, will show their allegiance in the way they know best: with their interpretations of regional American fare, from Hudson Valley duck breast to itty-bitty foie gras knishes. To purchase the $375 tickets, call 212-687-1290.
Ask Gael
Will Butter make me phat?
It's not easy being plump in the vast yawning space of Butter. Imagine a woodsy sauna with half-moon booths in an airplane hangar. But it just happens to be the hottest perch in town (or at least it was fifteen minutes ago). That means lots of whisper-thin beauties with shoulders bared, and the odd mix of urban louts and aging Lotharios who swim in their wake. I actually like the look, with the 3-D photo of a forest at one end, the soaring arches above, and witty little illuminated nooks. Chef Keith Harry (ex-Chanterelle) has more than enough ideas, some quite good to eat. I don't taste bottarga in the dressing of his baby romaine, but I like the raw hamachi, his crisp and spicy black sea bass, and a slightly stingy ration of rare ostrich. And you can be too thin if you're tasteless swordfish. Drown any regrets in a rich and mysterious ooze of chocolate gratin or the black-tea tapioca with vanilla poached pears.
Butter
415 Lafayette Street
212-253-2828

Bites & Buzz Archive
Week of May 20
Ice ice baby; Jimmy Rodriguez heads downtown; the new Zagat of the wine world?;Gael finds Greeks bearing gifts
Week of May 13
Coda Café becomes Café 66; Beacon revives a nineteenth-century tradition; The Palm gets back to its red-sauce roots.
Week of May 6
Mother's Day Dining; the Brooklyn Ice Cream Factory; Pico's tribute to the Tribeca Film Festival; Arezzo's tempesta; happy meals; the latest place for Chinese in midtown



Photos: From top to bottom- Kenneth Chen (first and third); Carina Salvi (second).