Restaurant Reviews
Openings & Buzz
In Season: Weekly Recipe
Underground Gourmet
Ask Gael
Restaurant Roundups
Best of NY Food Picks
Where to Eat 2005
Uptown Delivery Guide
Cheap Eats
Recipe Archive

Restaurant Insider

Weekly e-mail with reviews, recipes, and restaurant news and openings.

Sign Up

Restaurants
Week of July 15, 2002
shopping
Australian for Beef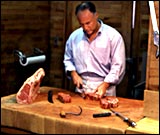 We're not sure if the Australian-raised cattle that are the source for Lobel's new Wagyu beef (the same breed responsible for those $300-per-pound Kobe steaks) have been massaged daily and fed a steady diet of Foster's lager, but we can say that they must have been well looked after. At a recent Wagyu strip-steak taste test, the words "foie-gras-ish," "sushilike," and, yes, "like butter" were bandied about freely to describe the highly marbled, exquisitely tender, and flavorful beef. The hand-cut steaks and roasts (variously priced, but generally about $100 per pound) are available at .www.lobels.com and shipped fresh overnight, or by special order at Lobel's (1096 Madison Avenue) or its brand-new Hamptons satellite, the butcher counter at East Hampton's Red Horse Market.
Lobel's
1096 Madison Avenue, at 82nd Street
212-737-1372
takeout
Hutt Two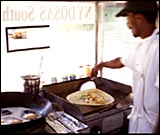 Thiru Kumar spent three years navigating the city bureaucracy, filling out reams of paperwork, and custom-building a cart to his exacting specifications before he finally opened NY Dosas, the vegetarian, chili-spiked alternative to stale pretzels and waterlogged Sabrett's. As chef at Flushing's Dosa Hutt, the Sri Lankan-born Kumar mastered the art of cooking dosas, idly, and uthappam, the South Indian crÍpes and pancakes made from fermented rice and lentil flours and served with coconut chutney and incendiary sambal. Now he spends his mornings in a Queens kitchen preparing the batters and chopping vegetables before claiming his hard-won turf on the south side of Washington Square Park, near the intersection of Sullivan and West 4th Streets. Everything is cooked to order and takes time, but with 24-hour notice, Kumar (reachable at 917-710-2092) can accommodate large groups of ravenous vegetarians craving his ten kinds of dosas, Singapore fried vegetable noodles, or a single can of guava juice. And nothing costs more than $5.
NY Dosas
South side of Washington Square Park
N ear the intersection of Sullivan and West 4th Streets

shopping
Duty Calls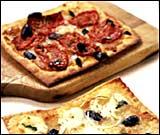 "I looked around and saw all these skinny girls who only eat lettuce—you know the ones," says Carol Rollo, "and I decided I would introduce them to the real world." That world, as Rollo sees it, revolves around real food—in particular, the kind of fat-be-damned Italian family recipes she and her partner Christine Bellini have been collecting over the years and serving at dinner parties. So nine months ago, Rollo came out of retirement after a long career in the designer-clothing business, and she and Bellini opened Two Italian Girls, a Southampton wholesale kitchen that provides Manhattan stores like Dean & DeLuca, Jefferson Market, and Citarella, as well as East Hampton's Red Horse Market, with terrific fully baked and ready-to-heat torte, the savory Italian pies variously stuffed with cheese, potatoes, and vegetables. Recently, they've expanded the line to include delicious crescent-shaped cookies, thin squarish pizzettes (pictured) that resemble giant Pop-Tarts made with polenta to give them a super-crunchy crust, and addictive, fennel-flavored grissini (bread sticks) as skinny as those girls they're trying to reform.

Ask Gael
Where do you take Paul Bocuse for lunch?
When the mythic toque of Lyon hits our town, he's got Peter Luger on his mind. I am eager to expand his universe. I lead the Great Bocuse and a huddle of Michelin-starry pals (Marc Haeberlin of Auberge de l'Ill and Alain Ducasse among them) to Michael Jordan's The Steak House N.Y.C., where I've never cut into a hunk of cow that was less than great. Sure enough, the French troop is properly impressed by the majestic sweep of Grand Central, the garlicky bread in gorgonzola fondue (easy to copy, they agree), lush Caesar salads and chowder, the hash browns, and creamed spinach. A mountain of outsize onion rings quickly vanishes. I order my classic New York sirloin rare (what else?). But for my guests, it's giant, fatty rib eyes all round -- rosť. What? With some weird Gallic myopia they insist: medium. Well, I do believe Paul is pleased. His cronies stop to snap themselves with executive chef David Walzog, and exit with signed menus.
Michael Jordan's The Steak House N.Y.C.
23 Vanderbilt Avenue, in Grand Central Station
212-655-2300

Bites & Buzz Archive
Week of July 8
San Domenico's new tramezzinos; Bastille Day at Restarant Provence; Clinton St. Baking Company introduces dinner; Gael finds anonmynity at Cucina & Co.
Week of July 1
The first-ever City Bakery State Fair; seriously sophisticated gelato; an independence day feast; Gael examines the allure of Da Silvano Cantinetta
Week of June 17
Manhattan clambakes; Turkish dining at Beyoglu; a chilled peach drink; and Gael Greene on classic dishes from Naples at Il Gattopardo.




Photos: From top to bottom- Kenneth Chen, Carina Salvi (2nd & 3rd)