Restaurant Reviews
Openings & Buzz
In Season: Weekly Recipe
Underground Gourmet
Ask Gael
Restaurant Roundups
Best of NY Food Picks
Where to Eat 2005
Uptown Delivery Guide
Cheap Eats
Recipe Archive

Restaurant Insider

Weekly e-mail with reviews, recipes, and restaurant news and openings.

Sign Up

Restaurants
EDITED BY ROB PATRONITE AND ROBIN RAISFELD
Week of September 30, 2002
trend
Have a Ball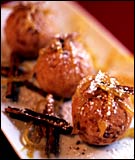 Eskimos may have 50 or so words for snow, but when it comes to the vocabulary of food, no one stretches the limits of the imagination— or good taste— like the Italians. Consider the pastas strangolapreti and strozzapreti — "priest stranglers" in English. Or how about minni di virgini, the cream-filled semolina buns that, to a Sicilian at least, resemble "virgin's breasts." Our current favorite, palle del nonno, sounds like the last thing on the planet you'd want to put in your mouth: Let's just say that nonno means "grandpa" and palle is the plural form of "ball." Lately, variations on the golden-fried ricotta fritters (under more discreet names) have been turning up all over town. Mangiarini's deliciously crisp and light version are filled with chocolate, drizzled with a Grand Marnier sauce, and offered as a dessert special (pictured). At Five Points, chef Marc Meyer deep-fries his doughnut-size fritters to order for brunch. And until tomato season ends, you can catch Inside chef Charleen Badman's free-form savory rendition as a delicious foil for her tangy Greenmarket-tomato salad; Patio Dining takes a similar savory approach. Home cooks can refer to Mario Batali's recipe in Vino Italiano, the terrific new wine book by David Lynch and Joseph Bastianich. In the privacy of your home, it doesn't matter what you call them.

tasting
Washington Park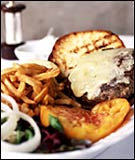 "I'm a California boy," says Washington Park's Jonathan Waxman. "I've got to have my fish tacos." And now that he's opened his Cal-cuisine canteen for lunch, we Easterners get to indulge in his riff on the surfer-dude classic. His pleasingly polished pan-seared-mahi mahi version gets the authentic double-tortilla treatment, plus a pair of kicky salsas. Also available (only at lunch) is his jaunty twelve-ounce hamburger on a buttery toasted brioche bun, with a Fryolater's worth of world-class frites — maybe the best burger plate in town. Dinner-size portions of Waxman signatures like red-pepper pancakes with smoked salmon and caviar and the famous JW chicken come at an admirable lunchtime discount, with nothing breaking the $20 barrier. But real bargain-hunters — and those prepared to loosen their belts and slur their speech back at the office — will go for the daily-changing three-course $20.02 prix fixe ($30.03 with wine). One recent sun-dappled afternoon, that penny-pinching package included an eye-poppingly good cherry-tomato-and-basil pasta, a meltingly tender duck leg in a creamy cauliflower purée, and a chocolate-bourbon ice-cream terrine, each course nicely paired with wine — a super deal, especially considering the wines by the glass alone run nearly as much as the entire meal.
Washington Park
24 Fifth Avenue
212-529-4440
Ask Gael
Tell me I don't need to ride a roller coaster for thrills.
The natural attraction of Latino and Asian as celebrated in Peru inspires Patria's chef Andrew DiCataldo to create chifa seviche. (The name signifies cross-cultural pollination, a dominant fact of life in Peru.) A triumphant dance with nature begins with the kitchen's own freshly brewed coconut milk -- the shredded flesh and juice of young Thai coconut is steeped overnight with lemongrass, ginger, and lime leaf. Next day, the lush and creamy potion is tossed with just-chopped raw tuna to order. A last-minute squeeze of lime adds a citric spike to mingle with the intense anise notes of slivered Thai basil and the smack of red Thai peppers. Fragrant as perfume, hot but not too, and nothing overshadows the tuna as you spoon this sophisticated "soup" from its young-coconut-shell bowl.
Patria
250 Park Avenue South, at 20th Street
212-777-6211

Bites & Buzz Archive
Week of September 23
Hotdogs get fancy in Brooklyn; undercover burgers in Le Parker Meridien hotel; Gael checks out the hottest new pizza joint on the LES
Week of September 16
Mexican beers that redefine luxury imports; Savoy's cozy makeover; Le Bernardin's new fourth course makes it's prix fix even better
Week of September 9
Mario Batali's supermarket debut; Gael explores Patricia Yeo's inventive style at Pazo


and more ...


Photos:Kenneth Chen (1st & 3rd), Carina Salvi