Daily Best Bets
Daily Sales & Bargains
Best Seller
Body - Beauty Column
Economy of One
Everything Guide
The Look Book
Market Research
Store Openings
Fashion
New York on the Cheap
Store Guide

Best Bets Daily E-Mail

New Best Bets and sale picks.

Sign Up

Shopping & Style
August 20
BY RIMA SUQI
PHOTOS BY STEVE WISBAUER

Bag Ladies
A Sigerson Morrison shoe addict is easy to spot, strutting around in quirky but super-cool-looking shoes. Now aficionados will find themselves craving these covetable bags as well. The company's first bags collection—shown here, a sheened leather tote bag with removable sunglasses case ($615) and corduroy day tote ($446)—ranges from simple handbags to luggage ($207 to $1,109). Be careful. It starts with shoes and bags; next thing you know, you're into harder fashion.
Sigerson Morrison
28 Prince St., between Mott and Elizabeth Sts.
212-219-3893.

Previous Best Bets

Friday

Clever coasters

Thursday

Cracker Jack jewelry

Wednesday

Sleek storage solutions

Tuesday

Sake to me!

more>>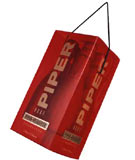 Prêt-a-Piper
Two's company, three's a crowd, but four is a party waiting to happen. At least that's what the people at Piper-Heidsieck Champagne seem to think. They've just come out with a four-pack of their ultrapopular pony (187 ml) bottles. Clad in a lipstick-red see-through tote, the bottles come with matching black straws. Break 'em out just to turn a back-deck weekend get-together into a fabulous fashionista party ($40).
Union Square Wines and Spirits
33 Union Square West, between 16th and 17th Sts.
212-675-8100.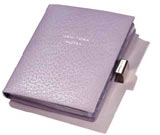 Take Note
Smythson of Bond Street's cherry-red leather Fashion Diary has a major cult following among New Yorkers. To celebrate the opening of the legendary British company's first North American store, on 57th Street, Smythson, known for decades as a supplier of stationery and leather goods to royalty, has created New York Notes, a leather-bound notebook where you can record your own restaurant, hotel, museum, and, of course, shopping highlights. In pale blue ($150) or black leather ($120) with blue-lined featherweight paper—edged in silver, of course.


Smythson of Bond Street


4 West 57th St., at Fifth Ave.
212-265-4573.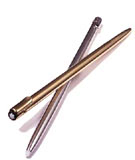 Status Stylus
Admit it, you got that Palm Pilot to look cool. But now everyone you know has one, too. So you added a deluxe leather case for your PDA. Whoops, everyone just got that nifty item, too. This fall, you can up the ante with Montblanc's new Palm stylus (made for Palm V and VII models), which comes in stainless steel or gold plate, both with that iconic "snowcap" logo ($45). That should keep your co-workers drooling—at least till next year.
Montblanc
595 Madison Ave., between 57th and 58th Sts. 212-223-8888.
834 Madison Ave., at 69th St. 212-535-6061.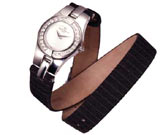 Wrap Star
Fashion is all about choices—but why should you have to limit yourself? The folks at Baume & Mercier agree, and that's why they've got the New Linea line. First, choose a watch face (plain or diamond bezel), then a wraparound band from a selection of twelve, including leathers and a very businesslike cashmere pinstripe (shown). The watch—$995 for plain stainless bezel and $3,600 with diamonds—comes with two bands. Each season, new bands ($95) are introduced just so you won't have to settle for last year's look.
Saks Fifth Avenue
611 Fifth Ave., at 49th Street.
212-753-4000.

New York Shops!




Our guide to 1600 of the city's best stores, including a 12-month sales calendar. On sale at newsstands now! To order a copy, call 800-496-7833 ($4.99 plus $2 shipping and handling).




Today's Sales Picks
From designer samples to discounted salon services, we've got the inside info on the best bargains around town—updated every day.

Sign up: We'll send you daily sales alerts!
Photos: Steve Wisbauer