Restaurant Reviews
Openings & Buzz
In Season: Weekly Recipe
Underground Gourmet
Ask Gael
Restaurant Roundups
Best of NY Food Picks
Where to Eat 2005
Uptown Delivery Guide
Cheap Eats
Recipe Archive

Restaurant Insider

Weekly e-mail with reviews, recipes, and restaurant news and openings.

Sign Up

Restaurants
EDITED BY ROB PATRONITE AND ROBIN RAISFELD
Week of August 20, 2001
Citarella: The Restaurant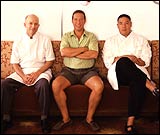 Citarella story: From left, pastry chef Bill Yosses, owner Joe Gurrera, and chef de cuisine Brian Young.


This week, with the much-delayed we'll-believe-it-when-we-see-it opening of Rockefeller Center's Citarella: The Restaurant, former Le Bernardin chef de cuisine Brian Young challenges the piscatory supremacy of his old boss Eric Ripert on the latter's own midtown surf and turf. Young brings to the battle an ambitious, nearly all-seafood menu (shaved geoduck clam with asparagus chives, a langoustine "roll" with kaffir lime, and a $75 Asian-seafood tasting menu), a confectionery counterpart in former Bouley Bakery pastry chef Bill Yosses, and an awesome 20,000 Leagues Under the Sea design by David Rockwell. Not to mention an in at the fish market.
1240 Sixth Avenue, at 49th Street
212-332-1515
· Cuisine: Seafood

Sugar Hill Bistro


Before the Sugar Hill Bistro opened for "previews" on August 21, the 1880s Victorian townhouse had been many things: a home, a doctor's office, a drug-treatment center, a liquor store. But the two local couples who bought the building as a real-estate investment opted instead to convert it into a full-fledged cultural and culinary attraction, the most exciting addition to the Harlem restaurant scene since Hillary's husband. Their reasons, in part, were selfish: "When we wanted to celebrate," says James Hunter, a mechanical systems specialist, "we were always going downtown." That was inconvenient, especially for people with young children and busy careers. Hunter's wife, Dineo Khabele, is an oncologist who went to school with Michael Jones, a plastic surgeon married to UPN newscaster Cathleen Trigg. Five years ago, the foursome began investing in real estate, buying up and restoring Sugar Hill brownstones. At the Sugar Hill Bistro, mantelpieces, crown moldings, and ceiling friezes adorn the second-story dining room, which also showcases the mixed-media portraits of Leslie Powell, one of the African-American artists exhibited throughout the building (the third floor is soon to become a gallery, and the top floor a business center). Last month, Wynton Marsalis dropped by to christen the ground-floor Renaissance Bar & Jazz Lounge with an impromptu set, but these days the spotlight is squarely on chef Adam D. Elliott, an Atlanta caterer who's put together a menu that, save for a blackened salmon and gospel brunch, gutsily ducks soul-food stereotypes. There's chicken-and-spinach spring rolls, Moroccan-spiced shrimp cocktail, Asian pan-seared scallops. And for the next three weeks, there's also a 20 percent food discount -- almost as much an incentive to book a table as the prospect of the former First Saxophonist swinging by. -- ROBIN RAISFELD
458 West 145th Street
212-491-5505
· Cuisine: Eclectic

Looking Ahead...





September





Fiamma

, 206 Spring St. (212) 653-0100
Opening Date: Early September
Set-up: Tri-level space in SoHo with exterior glass elevator and 130 seats
Cuisine: Italian
Chef: Michael White (formerly at the four-star Spiaggia in Chicago and chef di cucina at Ristorante San Domenico in Imola, Italy)
Owners: Stephen Hanson (Blue Water Grill, Park Avalon, Ruby Foo's)



October





The Harrison

, 355 Greenwich St.
Opening Date: Early October
Set-up: Designer Mark Zeff creates a 100-seat dining room filled with wainscoting, handmade chandeliers, and a walnut bar. Nine French doors will open onto the street, with an additional 40 seats available for sidewalk dining.
Cuisine: Eclectic American
Chef: Joey Campanaro (protégé of Jonathan Waxman)
Owners: Jimmy Bradley and Danny Abrams (The Red Cat)



April, 2002





Blue Smoke

, 116 East 27th Street
Opening Date: Spring, 2002
Set-up: Jazz joint with a built-in barbecue pit.
Cuisine: Barbecue
Chef: Pitmaster Kenny Callaghan (Sous Chef, Union Square Cafe)
Owners: Danny Meyer (Gramercy Tavern, Union Square Cafe, Eleven Madison Park)

— TISA COEN

Hear about a restaurant opening? Post an announcement - even a rumor - in the Food Forum.
---
Openings Archive
Week of August 13
Haru
Week of August 6
Arezzo, Lunettes et Chocolat, Sherwood Cafe
Week of July 30
Le Pain Quotidien, Danzón, Medi


Photos: Kenneth Chen.