Restaurant Reviews
Openings & Buzz
In Season: Weekly Recipe
Underground Gourmet
Ask Gael
Restaurant Roundups
Best of NY Food Picks
Where to Eat 2005
Uptown Delivery Guide
Cheap Eats
Recipe Archive

Restaurant Insider

Weekly e-mail with reviews, recipes, and restaurant news and openings.

Sign Up

Restaurants
EDITED BY ROBIN RAISFELD AND ROB PATRONITE
Week of October 1, 2001



Dining for a Good Cause


Even as we begin to return to some semblance of normal life and old habits, it's nice to know we can still do some good by doing what comes naturally in this food-obsessed town: eating out, especially at restaurants that are pitching in to the relief effort by contributing to funds established for survivors of those who perished at the World Trade Center. Following, a few delicious ways to put your money where your mouth is.

Windows of Hope
www.windowsofhope.org.
On October 11, hundreds of restaurants in New York (and around the country), including Ouest, Town, and virtually everyplace else you were waiting for an excuse to try, will donate at least 10 percent of that night's take to a fund benefiting families of World Trade Center restaurant workers.

Payard
To memorialize the Twin Towers and those who lost their lives there, François Payard continues to include their image looming over the skyline on his "New York, New York" pastries, while donating a dollar per sale to a charity benefiting families of the victims.
1032 Lexington Avenue, near 73rd Street
212-717-5252

Peasant
On October 11, chef Frank DeCarlo will prepare a special five-course $100 prix fixe dinner. Not only will all proceeds go to the Uniformed Firefighter's Association Widows' and Children's Fund, but owner John LaFemina--who's got eight relatives in the department--will match each dollar raised.
194 Elizabeth Street
212-965-9511

Aureole
Every night through October 11, $10 from each dinner served will be donated to Windows of Hope.
34 East 61st Street
212-319-1660

Divine Bar
From October 1 through 5, this Financial District wine bar will donate all profits from the sale of Oktoberfest beer and tapas to local Squad 18 of the Fire Department.
55 Liberty Street
212-791-9463

Oyster Bar
From September 28 through October 31, this Grand Central institution is offering a $27 prix fixe for lunch and dinner. For each one sold, $9 will go directly to the Windows of Hope Family Relief Fund and H.E.R.E. New York Assistance Fund.
42nd Street at Vanderbilt Ave. (Grand Central Terminal)
212 490-6650

Grapes of Grief and Gratitude Auction
www.grapesofgrief.com
Morrell & Company invites the wine industry and private collectors to donate bottles to be auctioned off on December 8 in a benefit for the New York Police & Fire Widows & Children's fund.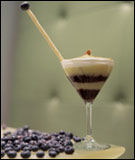 Berry Treasure
As a brash young pastry chef at the Hudson River Club and the Rainbow Room, Martin Howard reached for the stars--or at least the planets, rendering one in chocolate. (He's also produced a tasty Statue of Liberty, and a Marilyn Monroe in billowing chocolate frock.) His new gig at Brasserie finds him in a more restrained but no less inspired mood: His luscious lime-blueberry parfait, served in a martini glass, alternates layers of tart lime curd with grainy frangipane and blueberry compote, beneath a soft cloud of vanilla meringue.
Brasserie
100 East 53rd Street
212-751-4840
Underground Gourmet

Stylish Loafer
Bread, another stylish, pint-size panini parlor in SoHo, has given the Underground Gourmet even less incentive to break out the George Foreman Lean Mean Grilling Machine he got last Christmas (instead of the fancy Italian sandwich press he'd asked for). As at panini pioneers 'ino and Bar Veloce, the three-month-old, 34-seat café's raison d'être is, as the name says, bread, and all that can be crammed between two slices and deliciously melded in a sandwich press. Neighboring Balthazar supplies the ciabatta rolls, baguettes, and rustic loaves of pain au levain--the crusty building blocks for a dozen or so terrific, beautifully presented Italian sandwiches. If the high-quality meats and cheeses aren't as ingeniously combined as at 'ino, the sandwiches are much heftier, good news for the U.G.'s panini-pessimist friend who gripes that "$7 is a lot for a sandwich the size of a Ritz cracker." Sandwich standouts include: Sicilian sardines with tomato and "Thai-pepper mayonnaise" on a baguette with a hot and crispy crust but a soft, moist crumb; aged Genoa salami with nutty Taleggio and a swipe of olive tapenade on ciabatta; and rich Italian tuna with lemon dressing on levain that might make you renounce Bumble Bee and Hellmann's on rye forever. All sandwiches ($6.50 to $8.50) come with a mesclun-and-cherry-tomato salad saved from the humdrum by a tasty soy-sauce-touched dressing. For carbophobes, there are more salads like bresaola and shaved fennel, and a cutting-board plate of cured meats and cheeses. One downside: a paltry selection of wines, which are served in juice glasses. But owner Luigi Comandatore promises a more serious cellar soon, as well as minestrone, rabbit stew, and an expanded downstairs kitchen. (20 Spring Street; 212-334-1015.) -- ROB PATRONITE
Bread
20 Spring Street
212-334-1015
Bites & Buzz Archive
Week of September 24
F&B's frites; The Dining Room's foie gras; Nobu tells all; Gael's great escape
Week of September 17
Osteria del Circo's new chefs; Gael's pre-theatre dining picks
Week of September 10
Spots for surf 'n' turf; AZ's visiting chefs; Gael on Teodora
Week of September 3
Killer tomatoes; Saturdays at Ducasse; Chef Gary Robins at Mi; Gael on Danzon

and more ...

Photos: Patrick Rytikangas; Carina Salvi.