Restaurant Reviews
Openings & Buzz
In Season: Weekly Recipe
Underground Gourmet
Ask Gael
Restaurant Roundups
Best of NY Food Picks
Where to Eat 2005
Uptown Delivery Guide
Cheap Eats
Recipe Archive

Restaurant Insider

Weekly e-mail with reviews, recipes, and restaurant news and openings.

Sign Up

Restaurants
EDITED BY ROBIN RAISFELD AND ROB PATRONITE
Week of October 8, 2001
Out With the Old Moomba, In With the New TanDa
TanDa Team: Partners Jennifer and Chris Russell, Andy Russell, and chef Stanley Wong.

You may already know by now that TanDa, the Southeast Asian restaurant opening this week in an old OTB parlor on the fringes of hypertrendy Gramercy Park, has a Moomba (1997-2001) pedigree. But partners Chris and Andy Russell, two of that hip spot's original owners, don't want you to read too much into that. "TanDa is about food and hospitality, not exclusivity," says Chris. And their newfound earnestness runs deep, if the data below are any guide.

THE NAME


TanDa was a Vietnamese poet who wrote, "Food and wine is the essence of life."
Moomba means "Let's get together and have fun" in Australian Aborigine.

THE PARTNER
TanDa: Original Moomba co-partner Chris Russell graduated from Cornell School of Hotel Administration and worked at Tribeca Grill and Montrachet.
Moomba: Original co-partner Jeff Gossett was a MercBar doorman and a partner at Spy; he opened a Moomba in L.A. last spring.

THE PUBLICISTS
TanDa: The same firm that handles Chanterelle, Aureole, and Ilo. (Plus another firm for nightlife.)
Moomba: Lizzie Grubman.

THE CHEF
TanDa: Stanley Wong, who left his last job at Hong Kong's Mandarin Oriental Hotel to go on an eating and cooking tour of Hanoi and Bangkok.
Moomba: Frank Falcinelli, alumnus of André Daguin, Drew Nieporent, and Charles Palmer -- but did customers really care?

THE PASTRY CHEF
TanDa: Wendy "Cookie Jar" Israel.
Moomba: Wendy "Cookie Jar" Israel.

THE VIP ROOM
TanDa: What VIP room?
Moomba: Leo's living room.

THE LIGHTS
TanDa: Vietnamese fishing baskets converted into hanging light fixtures.
Moomba: Sconces fashioned from Clorox and Downy jugs.

THE SIGHTINGS
TanDa: None yet. Expected: Tim and Nina in a food frenzy?
Moomba: Ellen and Anne in a lip-lock.
TanDa
331 Park Avenue South, near 24th Street
212-253-8400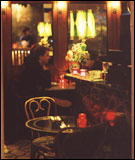 Her Art Isn't in It Anymore
The anonymous little Italian restaurant at the foot of Second Avenue never needed to hang a sign to build a loyal clientele. When it opened seven years ago, Mugsy's Chow Chow was a cheap Italian joint in a sea of cheap Italian joints that stood out for its toasted spaghetti and its eccentric décor -- namely, the way every bit of wall space was covered with quirky paintings and collages and the odd string of Christmas lights. The blue lights are still there, but the art is gone. So's the artist, who happens to be chef-owner Jimmy Carbone's ex-girlfriend and who left in her wake newly exposed, candlelight-reflecting tile and mirrored wood paneling that makes the cramped 22-seat storefront seem warmer and -- minuscule one-man open kitchen notwithstanding -- bigger. But the suddenly single Carbone has made more than cosmetic changes. Over the summer, he converted an adjacent space into a faux-suburban bar called the Patio, distinguished from other Lower East Side lounges by a tall picket fence and a jungle of potted plants. And although Mugsy's has always been affordable, Carbone streamlined the menu and cut prices after the World Trade Center tragedy, motivated both by a shaky economy and a community-minded desire to create a cozy home away from home, where locals can linger on the Patio for a cocktail, then head next door for Sunday supper, the newest addition to Carbone's enticing repertoire. Ten dollars a person buys a savory, satisfying three-course tasting menu, which recently included a lagniappe of a piquant, vinegary string-bean-and-potato salad; an original green salad enlivened with sliced saucisson and a mustard-and-red-grape dressing; a crispy-outside, creamy-inside spaghetti frittata; and a bowl of perfectly cooked penne in an intensely flavored lamb broth, strewn with kale and tender morsels of meat. There are worse ways to go on the rebound.
Mugsy's Chow Chow
31 Second Avenue
212-460-9171
Ask Gael


It doesn't look like we'll get to India for a long time.


Affluent New Delhi flocked when Keshav Kumar opened Coconut Grove, bringing the tastes of his native Kerala north. Now he's launched an outpost in midtown, with chef Prem Kumar (pictured; also from Kerala but not kin) coaching the kitchen in his elegant spin on that region's mixed colonial heritage (Portuguese, Dutch, French, English, and Middle Eastern). At an early tasting, I loved moist lamb patties from the bar menu, as well as crisp samosas making peaks in a swamp of fragrant chat -- bits of potato, mango, and peppers bound in yogurt. Upstairs, lithe young women in midriff-baring blouses and South Indian sarongs rushed crisp and slightly spongy, crepelike appams, hot from the flipping station behind us, to be filled with all sorts of savory chutneys. The light was not quite right, and the chicken was cooked to stringy fiber. Still, I was impressed by Kochi baked crab and a nut-and-fruit-stuffed quail and a powerfully spicy soup of lentils simmered with vegetables and apples. Malabar lamb biryani, the peppered duck steak, and grouper fillets afloat in a haunting gingered coconut cream were also standouts. Best go soon, because the dashing chef -- an Indian superstar for twenty years -- may not linger long. He's already gotten a bid to join the faculty at the Culinary Institute in Hyde Park.
Coconut Grove
44 West 56th Street
212-765-1800
Bites & Buzz Archive
Week of October 1
Dining for a good cause; Brasserie's berry treasure; SoHo's Bread
Week of September 24
F&B's frites; The Dining Room's foie gras; Nobu tells all; Gael's great escape
Week of September 17
Osteria del Circo's new chefs; Gael's pre-theatre dining picks
Week of September 10
Spots for surf 'n' turf; AZ's visiting chefs; Gael on Teodora


and more ...

Photos: Patrick Rytikangas; Carina Salvi.