Restaurant Reviews
Openings & Buzz
In Season: Weekly Recipe
Underground Gourmet
Ask Gael
Restaurant Roundups
Best of NY Food Picks
Where to Eat 2005
Uptown Delivery Guide
Cheap Eats
Recipe Archive

Restaurant Insider

Weekly e-mail with reviews, recipes, and restaurant news and openings.

Sign Up

Restaurants
EDITED BY ROBIN RAISFELD AND ROB PATRONITE
Week of October 15, 2001



Cook Homeward, Angels


Feeding rescue workers and throwing fund-raisers for firefighters and cops isn't the only way local chefs have responded to the World Trade Center crisis. In a city that thrives on culinary cross-pollination and prides itself on its open-pantry policy, there's been a conspicuous embrace of the all-American comfort food that's been making its hefty presence known on menus in recent years. In uncertain times and economies, after all, we crave security, not thrills. And the patriotic spirit that's overtaken the country seems to be infusing kitchens all over town. Guastavino, the glamorous English import, has rechristened itself "an American brasserie," and you can almost hear the midwestern twang in executive chef (and transplanted Indianan) Daniel Orr's descriptions of new dishes like iceberg lettuce with green-goddess dressing, pear-huckleberry pandowdy, and fried green tomatoes with Wabash Cannonball goat cheese (pictured, right).

Nightly blue-plate specials cover the regional-food gamut, from San Francisco cioppino and Louisiana roasted-duck gumbo to Grandma Orr's chicken and dumplings. We can't decide what pleases us more -- the intensely flavored, luxuriantly textured steamed Vermont-maple pudding with candied walnuts, or the 25 percent discount applied to all meals through October 19 to introduce the new menu.

In other money-saving, feel-good food news, Five Points has just launched its new Sunday supper with a menu that recognizes the fact that for some, pizza and beer is the ultimate comfort. Every week brings a choice of five $9 designer pizzas, five microbrews, and a concerted effort to promote local products like Old Chatham ricotta and Brooklyn Oktoberfest beer. Likewise, C3, the restaurant at the Washington Square Hotel, devotes October to homegrown cuisine like Hudson Valley foie gras and a Rivendell late-harvest Vignoles, just one example of the food-and-wine matches available on the $40 three-course prix fixe "New York Cuisine Month" menu, for those rare occasions when pot roast and mashed potatoes just won't do.
Guastavino
409 E. 59th St.
212-980-2455
Five Points
31 Great Jones St.
212-253-5700
C3 Restaurant
103 Waverly Place
212-254-1200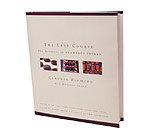 Get Your Just Desserts
There's an unfortunate tendency among modern-day pastry chefs to get carried away, to prize elaborate presentation over simple, straightforward flavor. Not Claudia Fleming, ballet dancer turned James Beard Award-winning pastry chef of Gramercy Tavern, and author, with food writer Melissa Clark, of The Last Course (Random House; $40). In her ravishingly illustrated first cookbook, Fleming divides the dessert world into Greenmarket-driven seasonal categories, and thanks her produce purveyors "for getting me the best of the best, every single day." The better the raw materials, after all, the better the nectarine-blueberry cobbler, Concord-grape parfait, or roasted-chestnut-honey pears. But less exalted doughmakers than Fleming also need clear, concise directions, which she provides, along with advice from Gramercy Tavern wine director Paul Greico. And once you master the individual recipes, you can indulge your inner pastry chef in a final chapter on "composed desserts," those multipart compositions that blend textures and temperatures in deliciously uncontrived ways.

Special Prix Fixe Week Starts October 15
Those $20.01 prix fixe lunches at top restaurants you wait for all year? Where you have to reserve instantly at the best places? They're back, to jump-start business, for this week only. And restaurants like Union Square Cafe, La Caravelle, and Montrachet are adding $30.01 dinners to the menu as well. For a complete list of participants, go to www.nycvisit.com

Katz pride: When you care enough to send the very best.


Ask Gael


Comfort me with meat loaf.


Yes, it's awful. But here are ten escapes from stress, sadness, and fear.

1. Go to Sylvia's Soul Food (328 Lenox Avenue ) restaurant in Harlem for the biscuits-and-scrambled-eggs breakfast on a weekday.

2. Taste every kind of doughnut at Krispy Kreme and choose the best.

3. If one Elvis -- peanut butter, bacon, and banana sandwich -- at Peanut Butter and Co. (240 Sullivan Street) is not enough . . . have two.

4. Go to Katz's Delicatessen (205 East Houston Street) and send a salami to any boy (or girl) in the Army.

5. Lose yourself in macaroni and cheese at Shelly's New York (104 West 57th Street) or Commune (12 East 22nd Street).

6. Get the endorphins going with a double workout at the gym, then indulge in the "tradition never changes" meat-loaf plate and lemon icebox cake at Serendipity 3 (225 East 60th Street).

7. Hop on the back of a friend's motorcycle and go to Pearson's in Queens (71-04 35th Avenue) for Texas BBQ.

8. Buy 100 grams of fresh caviar at Petrossian (182 W. 58th Street ) to eat all by yourself on toasted bagel thins with a dab of crème fraîche.

9. Make whatever it was that your mother made for you when you were sick and stayed home from school. Eat it on a tray, in bed.

10. Drink that precious bottle of Lafite you've been saving for a special celebration.

Bites & Buzz Archive
Week of October 8
TanDa vs. Moomba; Mugsy's Chow Chow's new look; Coconut Grove revisited
Week of October 1
Dining for a good cause; Brasserie's berry treasure; SoHo's Bread
Week of September 24
F&B's frites; The Dining Room's foie gras; Nobu tells all; Gael's great escape
Week of September 17
Osteria del Circo's new chefs; Gael's pre-theatre dining picks

and more ...

Photos: Patrick Rytikangas; Carina Salvi.