Restaurant Reviews
Openings & Buzz
In Season: Weekly Recipe
Underground Gourmet
Ask Gael
Restaurant Roundups
Best of NY Food Picks
Where to Eat 2005
Uptown Delivery Guide
Cheap Eats
Recipe Archive

Restaurant Insider

Weekly e-mail with reviews, recipes, and restaurant news and openings.

Sign Up

Restaurants
EDITED BY ROBIN RAISFELD AND ROB PATRONITE
Week of October 22, 2001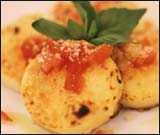 Where You Least Expect It


To that age-old question "Where can I get a good, cheap takeout lunch in midtown?" we have a surprising answer: Cipriani Le Specialità, the four-month-old café from those high-livin', Bellini-swillin' Cipriani boys. A sunny, two-table spot with brightly painted yellow-and-green walls, right across the street from Grand Central, the shop specializes in cakes and pastries and stocks Cipriani-label pastas and sauces, but the kitchen really excels with a terrific variety of Italian sandwiches like sliced turkey slathered with rich tonnato sauce on a "Cipriani roll," the soft, swirly house bun that looks like a misguided croissant ($3.95); dainty little tramezzini ($2); and daily pasta specials like gnocchi alla romana ($8): five toothsome dumplings shaped like large scallops in a tasty tomato sauce (pictured). Great espresso, too.
Cipriani Le Specialità
110 East 42nd Street
212-557-5088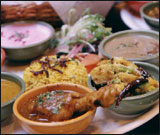 Happenings
Ocean Indian
It's everything you ever wanted to know about coastal Indian cooking, in seven easy lessons -- or, rather, tasting menus, offered over four months at Café Spice. After a vegetarian Gujarati warmup, the kitchen has segued into coconut-and-seafood-laden Maharashtran specialties like Bombay masala pomfret, spicy bell peppers, and chili shrimp. To sample a little of everything, order a thali -- a round tray filled with various aromatic bowls and breads (pictured), available for vegetarians and carnivores alike. Next up, starting October 29: the multi-ethnic, Portuguese-influenced flavors of Goa.
Café Spice
72 University Place
212-253-6999
Best of the Week
A Taste in Tribute to Brooklyn's Bravest on October 29.
Twenty-five of Brooklyn's best restaurants join forces at Borough Hall to commemorate the 95 Brooklyn firemen who died on September 11. Participants include the River Café, Gargiulo's, and Henry's End. All proceeds go to Brooklyn firehouses. To reserve, call 646-562-0550, ext. 28.

Data
Small Craft Advisory
Tom Colicchio can't catch a break. When he opened Craft, the Gramercy restaurant whose anxiety-inducing single-sheet bill of fare requires befuddled diners to cudgel their brains and go to the trouble of actually choosing their own side dishes, he apparently was asking too much of even the most progressive foodies. He's since jiggered and rejiggered his menu, paring down choices and spelling things out to the point where even a small child can now successfully order. But now that "almost no one is confused about the menu anymore," according to Colicchio, a new problem has presented itself. As it turns out, there's more than one Craft in this town, and although the other one spells its name with a "K," looks exactly like the Greek diner it is, and doesn't take reservations, that hasn't stopped fashionable types from showing up for their tables, or calling and trying to score eight o'clock bookings. When they do, they're usually told they've got the wrong place, but sometimes, a man answers the phone and barks, "We don't take reservations anymore . . . click." "We're too busy," says Kraft's owner, Dennis Krauss. "We get between 30 and 40 calls for Craft during the dinner rush alone." Colicchio's been getting calls, too -- angry ones. "You don't know who I am," said one woman who, he surmises, got her Cs and Ks crossed, "but you have really rude people on your phone there. I'm going to tell all my friends." For his trouble, Colicchio blames Kraft's brusque telephone manner, spelling-challenged 411 operators, and even New York, which ran the wrong information in a promotional guide. (Oops.) So what's the solution? Krauss says that one of Colicchio's managers proposed he come down and "have dinner and see the place." If that doesn't work, maybe Colicchio will take Krauss up on his suggestion and change the name to Tom Colicchio's Craft Restaurant. Well, maybe. But how many people can spell Kolicchio?
Craft
43 E. 19th St.
212-780-0880
Kraft
460 W. 42nd St.
212-239-1388
Ask Gael


What's blooming on the fringe of ground zero?


Nam, with its pale lemon and celadon walls and its illuminated bamboo poles, is a pristine haven from the still-acrid air north of the Chambers Street subway. But managing partner Steven Duong, a seasoned survivor from Saigon, was determined to open, even though the earliest-arriving fans of his crisp, clear Vietnamese dishes at Cyclo had to walk south from the barricades on Canal. Drawn by the light and by moving family photographs on sconces Duong himself designed, welcoming neighbors have been quick to stop by, sampling wonderful bo bia (soft rice-paper rolls filled with jícama, shrimp, and sweet sausage), chopped monkfish on spicy rice crisps, and the luscious shrimp-chicken-and-bean sprout-filled coconut crêpes of central Vietnam. Promising to return often. To Duong, the trio of cooks -- Hoang Do, Tien Pham, and Quy Tran -- are family, "Auntie," "Mother," and "Sister" (pictured). The cooks shop Chinatown for greens and sausage for lovingly remembered street food like thit nuong cuon (lemongrass-beef-and-sesame rice-paper rolls) and flat shrimp dumplings steamed in banana leaf as well as tangy green-papaya salad and classic curries, all gently priced. Try thick, sweet Vietnamese coffee with dessert -- warm banana bread and Tahitian vanilla ice cream, or ginger flan au caramel.
Nam
110 Reade Street
212-267-1777

Bites & Buzz Archive

Week of October 15
Three spots for comfort food; The Last Course Cookbook; Gael's top ten escapes
Week of October 8


TanDa vs. Moomba; Mugsy's Chow Chow's new look; Coconut Grove revisited


Week of October 1


Dining for a good cause; Brasserie's berry treasure; SoHo's Bread


Week of September 24


F&B's frites; The Dining Room's foie gras; Nobu tells all; Gael's great escape


Week of September 17


Osteria del Circo's new chefs; Gael's pre-theatre dining picks




and more ...

Photos: Patrick Rytikangas; Carina Salvi.