Restaurant Reviews
Openings & Buzz
In Season: Weekly Recipe
Underground Gourmet
Ask Gael
Restaurant Roundups
Best of NY Food Picks
Where to Eat 2005
Uptown Delivery Guide
Cheap Eats
Recipe Archive

Restaurant Insider

Weekly e-mail with reviews, recipes, and restaurant news and openings.

Sign Up

Restaurants
EDITED BY ROBIN RAISFELD AND ROB PATRONITE
Week of October 29, 2001
Heavy Starch, Please
Ready, set, eat: Ferdinando's potato-croquette-and-panelle sandwich.


If you're like us, you love participating in the New York City Marathon -- everything but the part where you're required to run 26.2 miles while bystanders throw water and orange wedges at you. It's best to gradually work your way up to these sorts of things. So this year, we're skipping the actual running and concentrating our efforts on pre-race carbo-loading. Here are a few of our favorite last-minute training grounds, ready and waiting whether you decide to run or not.

Becco
Not to knock Tavern on the Green's annual Ronzoni pasta party, but 9,000 pounds of ziti divided by 17,000 marathoners only equals about a half-pound per person. At Becco, $21.95 gets you a salad or antipasti, plus unlimited helpings of the three pasta dishes of the day.
355 W. 46th St.
212-397-7597

Ess-a-Bagel
Bagels as big as beagles aren't what the average aficionado looks for. But how many of those picky bagel nibblers have ever come up against the dreaded "wall"--the marathon's twenty-mile mark?
359 First Ave., at 25th St.
212-260-2252

Ferdinando's Focacceria
Check the rule book before eating here, because Ferdinando's potato-croquette-and-panelle sandwich topped with ricotta and pecorino ($4.25, pictured) may give runners some kind of deliciously unfair supercarbo advantage and constitute grounds for disqualification.
151 Union St., Brooklyn
718-855-1545

Babbo
Has a Frenchman ever won a footrace? Well, no matter. If you think France's Médoc marathon -- which features wine stops every mile -- is the only way to run 26 miles, then Babbo's seven-course pasta-tasting menu with an optional wine pairing for each course is for you ($59 per person; $45 per person for the wine).
110 Waverly Pl.
212-777-0303

Milan's
This Czech-Slovak mom-and-pop shop is home to a formidable triple carbo whammy: The all-beige Slovak combo ($7.30) features potato-and-cheese pierogies, a huge potato pancake, and a mound of spaetzle-like noodle dumplings in a sheep's-milk-cheese sauce called halusky -- a Zone Dieter's nightmare.
710 Fifth Ave., Brooklyn
718-788-7384

Hero's Sweetpotatoes
Hit the spud trifecta again at Hero's, a Japanese fast-food joint that celebrates the humble sweet potato: Start with sweet-potato rice soup, have a sweet-potato pita-pocket sandwich, and save the baked sweet potato slathered with peanut butter for last.
30 E. 13th St.
646-336-1685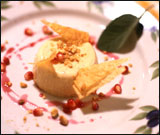 Patch Work
Beppe pastry chef Vera Tong has concocted a seasonal dessert to rival pumpkin pie: silky roasted-pumpkin yogurt panna cotta drizzled with honey syrup and sprinkled with pomegranate seeds. For an encore, she sends out a post-dessert pumpkin-seed brittle, yummily leaving nothing to waste.
Beppe
45 East 22nd Street
212-982-8422
Ask Gael

Why Zitoune?
It's the Arabic word for olive, a beloved soccer star of the eighties, and Moroccan-born Alain Bennouna's third effort to score on this corner. After just ten days in Fez and Marrakech (or so he confides), chef-partner Julian Clauss-Ehlers has absorbed an impressive feeling for what gourmands count among the world's great cuisines. His French training shows in the elegance of classics like cinnamon-stippled b'steeya (smartly using moist duck) and in fragrant harira--the meaty soup eaten to break the fasts of Ramadan. Fusion breakouts are measured, too, as in deep-fried crab briwats on tomato chutney, and in seared-lamb carpaccio with the complex spicing of ras el hanout (also a barely detectable accent in the chocolate-wrapped cappuccino mousse). Even so, I detect wariness in his timid seasonings. But veal cheeks with dates, almonds, and honey is a real triumph, and the vegetable couscous is properly fluffy. (The essential fiery harissa never appears. We have to ask.) Add a point for gentle prices and a $25 prix fixe with a glass of wine if you're willing to exit by 8 p.m.
Zitoune
46 Gansevoort Street
212-675-5224
Bites & Buzz Archive
Week of October 22
Cipriani's cheap eats; small Craft advisory; Café Spice's tasting menus; Gael visits Nam
Week of October 15
Three spots for comfort food; The Last Course Cookbook; Gael's top ten escapes
Week of October 8
TanDa vs. Moomba; Mugsy's Chow Chow's new look; Coconut Grove revisited
Week of October 1
Dining for a good cause; Brasserie's berry treasure; SoHo's Bread



Photos: Patrick Rytikangas; Carina Salvi.