Restaurant Reviews
Openings & Buzz
In Season: Weekly Recipe
Underground Gourmet
Ask Gael
Restaurant Roundups
Best of NY Food Picks
Where to Eat 2005
Uptown Delivery Guide
Cheap Eats
Recipe Archive

Restaurant Insider

Weekly e-mail with reviews, recipes, and restaurant news and openings.

Sign Up

Restaurants
Week of December 3, 2001
Grate Expectations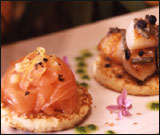 During Hanukkah, Jewish families everywhere dig out their cherished, grease-splattered recipes for latkes, the potato pancakes that symbolize the miracle of the oil that lasted eight days. Even more miraculous are the steps some professional chefs take to transform the humble Hebrew hotcake into secular gourmet grub. From December 4 through December 22, new Fifty Seven Fifty Seven chef Brooke Vosikas fries up a trio of decidedly nonkosher luxury latkes as an appetizer special: a blue-potato latke with Nantucket Bay scallops and Oregon truffles; a Yellow Finn-potato latke with juniper-and-lemon-smoked salmon; and an Idaho-potato latke with goat cheese and shaved Parma ham (pictured).
Fifty Seven Fifty Seven
57 East 57th Street
212-758-5757
The Aesthetics of Japanese Food
Ikebana for flowers, origami for paper: Japanese culture places an extraordinary premium on the aesthetics of everyday presentation. Hence this weekend symposium of lovely ceramics and their even lovelier contents. Martha Stewart will be on hand, just in case the chefs don't make you feel ham-fisted enough.
December 6 through 8 at the Japan Society
333 East 47th Street
212-832-1155
Milk and Cookies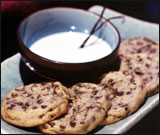 Here's a tip for Santa: If you happen to be visiting TanDa pastry chef Wendy Israel this December 24, allot yourself more than the usual amount of break time to huddle around the hearth. After fifteen years of tweaking, the Moomba survivor says, she's finally perfected her recipe for chocolate-chip cookies. At TanDa, she serves them hot out of the oven with a bowl of fresh, warm coconut milk for dunking.
TanDa
116 East 16th Street
212-254-1600
Tasting
Hello, Cleveland!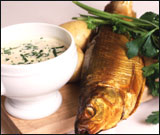 Don't think that Café Boulud's top tocque Andrew Carmellini is just another chef jumping on the comfort-food chuck wagon. Although the current "voyage" section of his four-part menu (available through mid-January) is a domestic flight titled the "Heartland of America," he was planning dishes like a creamy "midwestern-style chowder" with smoked whitefish (pictured), a colossal "Amish" chicken potpie, and a fancy-pants take on s'mores long before his boss, that Daniel guy, named an apple tart after Mayor Rudy. Not to mention that the Cleveland native's pierogi, stuffed with farmer cheese, sauerkraut, and potato, have an unimpeachable pedigree -- the recipe comes courtesy of his Polish grandmother.
Café Boulud
20 East 76th Street
212-772-2600



Ask Gael
We want to eat light before or after theater.
Remi's luscious new cichetti platter (pictured) is just enough to mute hunger rumbles before or after the show. Cichetti, the small snacks served in the wine bars of Venice, are some of the best bites in a town not celebrated for triumphs of the table. That may explain why till now chef Francesco Antonucci paid so little mind to his heritage. Not that I haven't always rated Remi a top Italian, but suddenly the food is better than ever. And Antonucci's nostalgia glorifies these Venetian tapas. A flotilla of savory classics come in small square dishes like patchwork on a footed platter -- sweet-and-sour Dover sole; La Serenissima's famous cod mousse; zesty octopus; remarkable seviche of whitebait; smoked eel; cuttlefish tarted up in its own ink; eggplant, of course; meatballs; and prosciutto in a fried Parmesan basket. $12 per person.
Remi
145 West 53rd Street
212-581-4242
Bites & Buzz Archive
Week of November 26
Six spots for a holiday party; Tabla's all-American burger; fancy food shops in Brooklyn; Gael catches up with Le Cirque almuni
Week of November 19
Lunch bargain at Lutèce; Gael goes to Brooklyn's Cucina
Week of November 12
10 spots to spend Thanksgiving; City Bakery's salami and eggs; Gael gets a taste of France at 44
Week of November 5
Payard's Brazilian visitor; Jimmy's Uptown's soulful scene; Da Silvano's cookbook; Gael gets some Afghan comfort



Photos: Patrick Rytikangas; Carina Salvi.