Marseille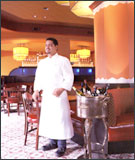 Hell's Kitchen seems the perfect neighborhood for a restaurant like Marseille, dedicated to the bold flavors of that gritty industrial port. Designer Nancy Mah, who fabricated Asian-fantasy interiors at Lotus and Sushi Samba, goes for a Casablanca-era French-Moroccan feel with a tile floor, a zinc bar, and wine storage built into a former bank vault; while chef Alex Ureña (pictured), late of Blue Hill, traverses the Mediterranean for tapas like stuffed zucchini blossoms and mussel bruschetta, appetizers like rock-shrimp falafel, and the inevitable bouillabaisse. He's still trailing a wisp of foam from his stint at El Bulli, the inspiration, no doubt, for the celery lather adorning his crunchy peanut-butter tart.
630 Ninth Avenue, at 44th Street
212-333-3410
· Cuisine: French/ Mediterranean
Fauchon
Fauchon, purveyor of such common Parisian grocery-list staples as cognac marrons glacés, preserved duck à l'orange, and Sichuan-peppercorn foie gras, has opened its second New York branch, in the old Sant Ambroeus space. The fabled French food hall is keeping its predecessor's fabled gelati, panini, and coffee bar and adding its own line of Fauchon products and pastries. Heading the confectionery department is former Le Bernardin pastry chef Florian Bellanger (pictured), who seems to be on an enduring sugar high.
1000 Madison Avenue, near 77th Street
212-570-2211
· Cuisine: French Café
Looking Ahead...


Late December

Blue Fin,
Set-up: Situated in the highly-anticipated W Times Square Hotel, this 400-seater will have a floating staircase connecting its two levels and a view of the Great White Way.
Cuisine: Seafood
Chef: Paul Sale (Icon at W Court Hotel)
Owner: Stephen "BR Guest" Hanson (Isabella's, Atlantic Grill)

January, 2002

Suba, 109 Ludlow St., 212-982-5714
Set-up: Subterreanean, multi-level grotto with moat, underwater lamps, and floor-to-ceiling glass-paneled doors. Designed by Andre Kikoski.
Cuisine:Pan-Latin
Chef: Stephane Bucholzer (L'Actuel)
Owners: Yann De Rochefort and Phillip Morgan

Fiamma, 206 Spring St., 212-653-0100
Set-up: Tri-level space in SoHo with exterior glass elevator and 130 seats
Cuisine: Italian
Chef: Michael White (formerly at the four-star Spiaggia in Chicago and chef di cucina at Ristorante San Domenico in Imola, Italy)
Owner: Stephen "BR Guest" Hanson (Blue Water Grill, Park Avalon, Ruby Foo's)


April, 2002

Blue Smoke, 116 East 27th St.
Set-up: Jazz joint with a built-in barbecue pit at former 27 Standard space.
Cuisine: Barbecue
Chef: Pitmaster Kenny Callaghan (Sous Chef, Union Square Cafe)
Owners: Danny Meyer (Gramercy Tavern, Union Square Cafe, Eleven Madison Park)

-- TISA COEN

Hear about a restaurant opening? Post an announcement - even a rumor - in the Food Forum.
---
Openings Archive
Week of November 26
Tuk Tuk
Week of November 19
Café Sabarsky, Market 17, Thias, Better Burger, Nipotino
Week of November 12
Deborah — Life Love Food, Pigalle, Jean-Luc, @SQC
Week of November 5
Across the Street, Mezz@Town



Photos: Patrik Rytikangas.