Happy Food Year
Remember Millennium Eve? You know, the night you spent at home under the bed with a flashlight, with a hoard of Volvic and canned soup? When midnight struck, you crawled out and greeted the New Year by putting on a pair of giant "2000" eyeglasses, popping open a bottle of Champale, and then falling asleep watching the Iron Chef marathon. So why not live a little this New Year's? While a lot of restaurants are showing restraint and forgoing expensive prix fixe menus for familiar à la carte offerings, others are pouring on the foie gras, truffles, and caviar. However you choose to celebrate, just leave the "2002" specs under the bed. —ROB PATRONITE
Peasant
Peasant's owner, John LaFemina, says his customers want simplicity this year, so he's offering them the regular menu of rustic Tuscan dishes at regular New York prices. Still, rotisserie-roasted suckling pig sounds like a party to us. Plus noisemakers and a champagne toast.
194 Elizabeth Street
212-965-9511
Convivium Osteria
Convivium's Park Slope customers want simple and rustic, too; they just want more of it. The $65 five-course, Mediterranean-inspired menu begins with eel empanadas and ends with chestnut-and-porcini-stuffed capon; plus a pomegranate-sorbet intermezzo, dessert plate, and the inescapable champagne toast.
168 Fifth Avenue, Brooklyn
718-857-1833
Aureole
Call the folks in Miami Beach and tell them to get on the next Greyhound bus to New York: In addition to offering a seven-course $100 dinner, Aureole's got a five-course $55 early-bird special (actually, they're calling it a luncheon, from noon to two, but all that really matters is that you make it home in time for Dick Clark, right?) The meal includes a parfait of smoked salmon and Osetra caviar, dry-aged sirloin with a short-rib-and-chanterelle ragout, and two dessert courses. What, no champagne?
34 East 61st Street
212-319-1660
Papillon
Those kooky cooks Paul Liebrandt and pastry chef Will Goldfarb won't be pulling anything more outrageous than offering a full open bar from 9 p.m. to 4 a.m., including canapés, for anyone with $200 to spare. Expect "high-end finger food like langouste tartare," but no bobbing for duck liver-in-a-blanket.
575 Hudson Street
646-638-2900
Alain Ducasse
Eight exquisite courses brimming with the usual luxury suspects: caviar and foie gras and the rare tuber melanosporum -- fresh and preserved. Your $650 buys a glass of champagne upon arrival and one more at midnight, plus the signature post-meal parade of petits fours and lollipops.
155 West 58th Street
212-265-7300

the underground gourmet
Non-Blonde Ambition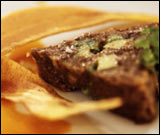 Two or three sweet-tempered, dark-haired beauties wait tables at La Brunette, but none of them inspired the inviting new Williamsburg restaurant's name. (Neither did Aretha Franklin, despite her unremitting presence on the sound system.) "We wanted something easy to pronounce and easy to remember," says co-owner Aleksandra Drozd, a blonde who also runs the Gray Parrot Cafe on Bedford Avenue and BQE, a lounge upstairs from La Brunette, with partner Robert Nowak. If her foray into fine dining proves memorable, it will be due in no small part to the polished French-Caribbean cooking of chef Jacques Gautier, fresh from a year at Vong. "I was really burnt out on stuffy midtown restaurants," says Gautier, whose half-Haitian heritage brought tropical seasonings and ingredients to his menu, lending it a distinctive, off-the-beaten-bistro-track flair (entrées, $11 to $18). He might present a table with an amuse-bouche of avocado-and-oxtail terrine redolent of the same Scotch-bonnet peppers that heat up his vibrant red-snapper tartare and his spicy coq au vin, which he serves over a dense mound of mashed plantains. The best thing about his braised lamb shank (pictured), tender and succulent as it is, is the perfect crispy-soft texture of the gratin of tropical tubers sitting in for humdrum spuds. But Gautier doesn't confine his creativity to the kitchen. He's found a way to make the mysterious identity of the restaurant namesake work for him. Who, exactly, is that anonymous brunette? "My girlfriend is. I told her it was named for her." —ROBIN RAISFELD
La Brunette
300 North 6th Street, Brooklyn
718-384-5800
roundup
Ocean's Three

A chicken in every pot might be the American way, but in Italy, on the days leading up to Christmas, it's an eel in every bathtub. That's how people used to store the live wrigglers for il cenone, the Christmas Eve fishfest. A few New York restaurants have planned their own Yuletide versions of the meatless meal (though we presume that the ingredients will be kept out of the bathroom). At The Minnow (442 9th Street, Brooklyn; 718-832-5500), Aaron Bashy's $40 "Feast of Seven Fishes" (pictured) involves a procession of octopus dumplings, fried smelts, farfalle with anchovies, and the ever-popular marinated eel, plus salmon, tuna, shrimp risotto, and dessert. Citarella's (1240 Sixth Avenue, at 49th Street; 212-332-1515) six-course, $84 "La Vigilia" covers similar territory, with lavish courses like grilled baby octopus with truffled potato salad, sautéed lobster with gnocchi, and braised eel with cauliflower, capers, olives, and cippolini onions. And in the spirit of the season, San Domenico (240 Central Park South; 212-265-5959) generously offers its $75 four-course southern Italian seafood menu, commencing with marinated eel and concluding with panettone soufflé, from December 17 through Christmas Eve.

best of the week
Special Kwanzaa Dinner on December 26
The African-American harvest holiday inspired chef Mark Cain's special menu at Mekka on Avenue A. Highlights include chicken Yassa, a spicy holiday tradition from Senegal, and samaki wa kupaka, an East African grilled-fish dish swimming in coconut milk, tamarind, curry, and cayenne.
Mekka
14 Avenue A
212-475-8500
takeout
Christmas Bonus

Santa's hardest-working little helpers, Payard Patisserie & Bistro's François Payard and his chef, Philippe Bertineau (pictured, left, with Payard), will be working even harder this Christmas season. After François cranks out 3,000 or so bûches de Noël for his Yule-log-loving Upper East Side customers, Philippe will follow them with a traditional three-course French-farmhouse Christmas Eve dinner (for takeout or delivery), including a twice-baked upside-down cheese soufflé, a roasted whole guinea hen stuffed with chestnuts with a black-truffle sauce, a fricassee of winter vegetables, and a choice of a chocolate, a hazelnut, a chestnut, or a Mandarin-orange bûche. $110 per couple; order by December 20.
Payard Patisserie & Bistro
1032 Lexington Avenue, near 73rd Street
212-717-5252
shopping
Marquet Demographics

At last count, Fort Greene was home to four French bistros but not a single French bakery. That high-calorie niche has shrewdly been filled by Marquet Patisserie, a Boerum Hill trailblazer with branches on Court Street and in Greenwich Village. The cheerful new location, painted buttercup-yellow and furnished with local art and a private party room, sells Jean-Pierre Marquet's signature line of fruit tarts, gooey ganache confections, a full array of flaky croissants and breakfast pastries, and the seasonal bûche de Noël. For lunch, there are quiche, soups, and sandwiches made with house-roasted meats and homemade mayo. The rustic bread, of course, is Marquet's own, and for sale by the loaf.
Marquet Patisserie
680 Fulton Street, Brooklyn
718-596-2018




Ask Gael
Am I imagining it, or are you getting thinner?
Ummm. Indeed, I'm reading more and eating less . . . voluptuous cookbooks seem to dim all sorts of cravings. Creamy, crunchy, nutty, and chocolate are my four essential food groups. So the caramelly tarte Grenobloise in Chocolate Desserts by Pierre Hermé (Little, Brown; $40) is cosmically fulfilling. I like the concept of pushy, competitive cookbook writers convening to debate the ultimate lemon curd and other classic indulgences culminating in The Baker's Dozen Cookbook (William Morrow; $40). As for Second Helpings From Union Square Cafe (HarperCollins; $35), it tickles more if you know the cast of characters in the silly snapshots. If not, total immersion in the braised short ribs will do. Mai Pham's Pleasures of the Vietnamese Table (HarperCollins; $27.50) and Zarela's Veracruz (Houghton Mifflin; $35) deliver fantasy voyages as well as phantom calories. The Chefs of the Times in hardcover (St. Martin's Press; $35) is a definite keeper, so I can toss out a tangle of wrinkled clippings. And I hope Santa brings me Julia Child's remastered Mastering the Art of French Cooking (Knopf; $40) to park beside my butter-splotched first edition.