Protester Ruins Mortgage-Banker Convention With Unfunny Attempt to Kidnap Karl Rove
Attendants mourn the good old days, when the protesters they got were joyful and naked.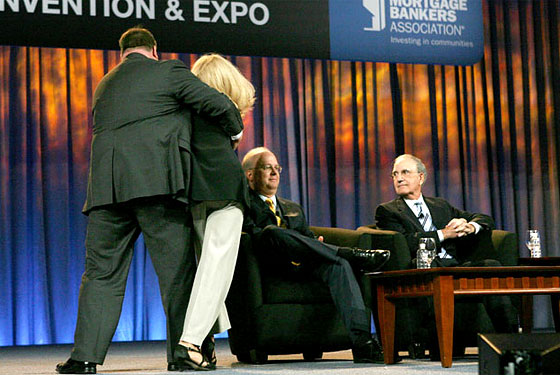 Karl Rove was accosted by a protester who tried to handcuff and arrest the former Bush strategist "for treason" during a panel at a convention of mortgage bankers in San Francisco yesterday. For those attending the conference, which was planned before the mortgage meltdown, the incident added to an already glum mood. Some even took it personally: "We had streakers during the 1990s, but that was a joyful, happy thing," one mortgage broker told the Times, adding that he "fondly recalled how a group of inebriated and naked bankers had once entertained the crowd. 'But now everyone is blaming us for everything.'"
Protests and Hecklers Have Mortgage Bankers Longing for Good Old Days [NYT]