Brad and Angelina to Become Even More Smug
They're getting MARRIED. Ugh. That and more gossip in our daily roundup.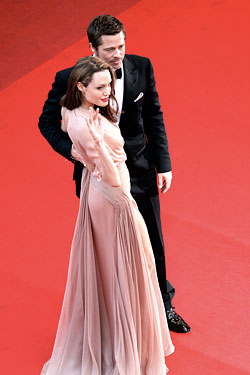 Brangelina is finally talking marriage, in New Orleans at the end of the summer, perhaps prompted by a desire to stop rumors that they're splitting up. Goldie Hawn, who wants to see Kate Hudson settle down, thinks she should stop seeing A-Rod. James Franco bailed on his UCLA commencement speech, claiming a preproduction conflict, but students thought Franco, who just graduated from the school last year, is "not a role model," "hasn't had time to accomplish anything with his degree," and even set up the Facebook group "UCLA Students Against James Franco as Commencement Speaker." So he's being replaced by Linkin Park's lead guitarist.
San Francisco mayor Gavin Newsom announced to his Mr. Chow dinner buddies Ryan Seacrest, Chelsea Handler, Ari Emanuel, and Kevin Huvane that, should he become governor of California, they should refer to him as "The Gavinator." Producer John Peters isn't letting a little "Page Six" leak stop him from publishing his tell-all, despite handing back his $700,000 advance to Harper Collins. Peters has no fear of offending media bigwigs: He writes about "bitch-slapping" Barry Diller. Captain Jack Sparrow has some competition: Columbia Pictures just signed a deal with Richard Phillips, the cargo-ship captain held hostage by Somali pirates in April. The big-screen version is being produced by Kevin Spacey, Michael De Luca, Dana Brunetti, and Scott Rudin. Will Smith is casting his son as the lead in his remake of The Karate Kid, complete with Jackie Chan as his martial-arts instructor. Terrence Howard halted six lanes of traffic to save a baby bird.
Just when you thought you'd already seen far too much of Britney Spears, TMZ got ahold of some naked pictures from the set of her Gimme More video. Meanwhile, Spears's dad has banned all backstage booze from her U.K. tour, but she's still managing to go post-show clubbing. Audrina Patridge is the latest skinny celeb to wrap her lips around a Carl's Junior burger for the camera, after Paris Hilton and Padma Lakshmi's fast-food-commercial stints. Mariah Carey loves to eat and loves her curves.
Bethenny Frankel joked about boyfriend Jason Hoppy at STK, "I'm convinced he plays for the other team. I even had my gay friends assess the situation." Brooke Shields reached a settlement with the National Enquirer after two of their reporters checked her dementia-suffering mother out of her nursing home, claiming to be her friends. The She-Pratt requests via Twitter that we all pray for Heidi Montag, who was hospitalized in Costa Rica for a "stomach infection" while waiting for the cast of I'm a Celebrity … Get Me Out of Here to cast their vote on her return to the show. And after Dr. Drew said that Lindsay Lohan would probably die before she got sober, LiLo tweeted her clever comeback, "I thought REAL doctors talked to patients in offices behind closed doors. Am I wrong? Hmmmmm. I think NOT. Yay!"