Slideshow: Prince Harry Takes Manhattan
Just the thing to hump you through the Monday-afternoon haul — er, haul you through the Monday-afternoon hump.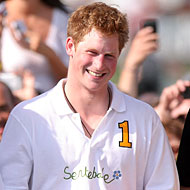 As you all know by now, Prince Harry traveled through Manhattan and Governors Island this weekend during his first official visit to New York City. What you don't know is that Daily Intel actually saw him, up close, at the Veuve Clicquot Manhattan Polo Classic. We almost reached out and touched him, but we remembered what happened the last time a prominent American touched a member of the royal family, and we demurred. Since not all of you readers were lucky enough to have the right to creepily follow after His Royal Highness in a field full of people wearing blazers and pink ties in the searing sun all Saturday afternoon, we've collected a photo slideshow of the best, most adorable moments from the prince's visit to our fair city.