Robert Pattinson Is Smoking, Hot
... and in Washington Square this very second. EEEEEEEEEEEEEEEEEEE!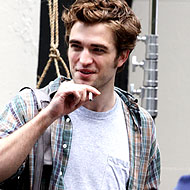 Intern Mike Vilensky reports from the front lines in Washington Square Park, where the chiseled Twilight star is filming Remember Me, a romantic comedy. "I tried to take cell-phone pics, but I was thwarted by packs of girls literally crying," he reports, breathlessly. "People threw roses at him, took pictures, gasped. He smiled and then had to SPRINT into his trailer. He looked skinnier, paler — yet better! — in person." Careful! That's how they draw you in.
UPDATE: New York's Melanie Kwong was one of the many who elbowed aside Vilensky and got pictures! Now we have a little slideshow for you.