Gossip Girl Season Three: What We Know, and What We Guess
Tonight's the night! Tonight's the night!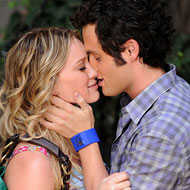 Holy headbands! After what seems — in part because of the unwelcome visitation of NYC Prep on our lives — like an interminably long time, Gossip Girl will tonight return for its third season on the CW. Not that the show ever really left our hearts: Like the pimply pale adolescents we are inside, your Daily Intel editors have spent much of their summer not at the beach, but scrutinizing paparazzi shots, reading online gossip, and even peeking at location shoots throughout the city in order to slake our thirst for information about the Greatest Show of Our Time. Thus, while season three surely has a few surprises in store, some things — like celebrity cameos, budding relationships, and one big gay twist — we've already learned about. So in anticipation of tonight's episode and tomorrow morning's recap (9 a.m. sharp(ish)! Right here!), we've pulled together a slideshow of what we know, and what we're assuming, about the coming season. Let us know your predictions, too! Honestly, this drought has gone on long enough.
Related: Is Gossip Girl New Tonight? Hell, yes!
BEGIN SLIDESHOW