Martin Scorsese Has BlackBerry-Bruised Thumbs
Poor guy. We've been there.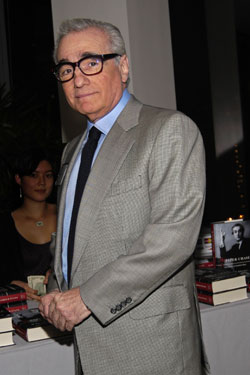 Martin Scorsese was the surprise non-journalist guest at last night's book party in the Reuters building for Sir Harry Evans's memoir of his life in newspapers, My Paper Chase: True Stories of Vanished Times, which featured a discussion on bygone times so long and rambling it may well have killed print journalism then and there. Nevertheless, the famed director stuck it out and pushed his way through well-wishers like Mort Zuckerman and Joe Lelyveld to congratulate Sir Harry. (Why? According to My Paper Chase, Evans introduced the director to his fifth wife, Helen Morris, with whom he had a daughter, actress Francesca, who has appeared in The Departed and The Aviator.)
Later, when we cornered him to ask about his relationship with newspapers, Scorsese, an avid Times reader, grew agitated at the suggestion that the print version may not be long for this world. "I don't use the Internet! I don't own a computer!" he exclaimed, so emphatically that he knocked our tape recorder out of our hands, erasing everything we had recorded so far.
How does he stay in touch with people, then? we asked. Carrier pigeon? "I do have a cell phone. That I do admit. And it's one of THOSE," he said, gesturing to our BlackBerry and fretting, "It's hurting my thumbs."
Plus, he can recognize the flaws in the current print model. "I really enjoy reading the papers, as best as I can, but turning those pages are a problem," he said. Because of his sore thumbs? More like his attention span: "I do motion pictures. It's hard enough just reading."