Kirsten Gillibrand's Only Real Threat: George Pataki
We asked four veteran New York political consultants to handicap the field.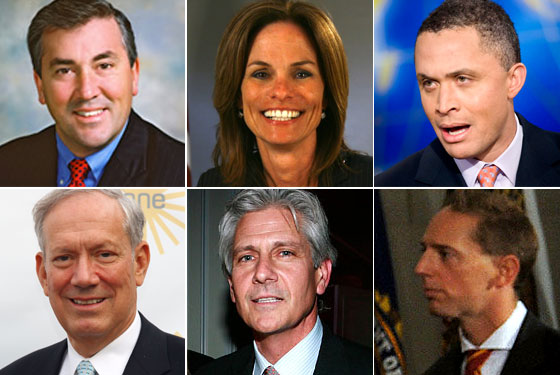 Kirsten Gillibrand has, up to this point, been very lucky. With her powerful guardian angels Chuck Schumer and Barack Obama watching over her, countless Democrats mulling a primary run have been convinced to sit this one out. High-profile, big-name Republicans like Rudy Giuliani and Peter King have bowed out on their own. For someone considered so vulnerable — an appointed senator, still largely unknown, with a malleable ideology — it's almost a miracle for Gillibrand that nobody has stepped up to the plate yet. But that doesn't mean there aren't still plenty of possible challengers waiting in the wings, and Harold Ford Jr. is only the most vocal and visible one. But who among them will actually enter the race, and who actually poses a threat to Gillibrand? As Election Day continues to creep up on us, we polled four veteran New York political consultants — George Arzt, Dan Gerstein, Joseph Mercurio, and Hank Sheinkopf — for their predictions.
George Pataki:

The Latest: Although polls have shown him beating Gillibrand, the former governor has remained steadfastly coy and noncommittal about his plans. In September, Pataki told reporters that, "For better or worse, the people of this state know me pretty well, so if I am going to make a decision at some point to enter the elective arena I could do it a lot further down the road than now." Over three months later, while speaking to NY1 about Governor Paterson's State of the State speech, Pataki dodged the question of challenging Gillibrand as if it were a flying shoe. "This is not the day for that," Pataki said. "This is the State of the State, and that's what everybody should focus on."

Predictions:

George Arzt, George Arzt Communications: 20 percent chance of running, 6 out of 10 threat level

Dan Gerstein, Dan Gerstein Consulting: 15 percent chance of running, 7 out of 10 threat level

Hank Sheinkopf, Sheinkopf Ltd.: 30 percent chance of running, 7 out of 10 threat level

Joseph Mercurio, National Political Services, Inc.: 30 percent chance of running, 8 out of 10 threat level

Average: 23.75 percent chance of running, 7 out of 10 threat level


Mike Balboni:

The Latest: A moderate Republican who served as a state senator from Long Island before upsetting some in his own party by signing on as Eliot Spitzer's homeland security chief, Balboni currently works for a private government-consulting firm. But in November he told Politico that "the opportunity to serve the people continues to really drive me — and a Senate seat is something that comes up once in a lifetime." When asked on June 6 to simply say that one word — "no" — Balboni refused.

Predictions:
George Arzt, George Arzt Communications: 30 percent chance of running, 3 out of 10 threat level
Dan Gerstein, Dan Gerstein Consulting: 50 percent chance of running, 3 out of 10 threat level
Hank Sheinkopf, Sheinkopf Ltd.: 20 percent chance of running, 5.5 out of 10 threat level
Joseph Mercurio, National Political Services, Inc.: 20 percent chance of running, 2 out of 10 threat level
Average: 35 percent chance of running, 3.38 out of 10 threat level


Harold Ford Jr.:

The Latest: The recent New York transplant became a real possibility to run against Gillibrand last week, when the Times reported that he was mulling a candidacy. Even after Harry Reid and Chuck Schumer tried to convince him to stay out — efforts that have been successful with countless Democrats before — Ford remained defiant, staffing up and releasing a statement proclaiming he was "not going to be bullied or intimidated." On Monday, he announced his newfound support for gay marriage, a veritable prerequisite for New York senators nowadays. On Tuesday, he confirmed in an op-ed in the Post that he is "strongly considering running for the United States Senate."

Predictions:

George Arzt, George Arzt Communications: 40 percent chance of running, 5 out of 10 threat level

Dan Gerstein, Dan Gerstein Consulting: 33 percent chance of running, 3 out of 10 threat level

Hank Sheinkopf, Sheinkopf Ltd.: 40 percent chance of running, 2 out of 10 threat level

Joseph Mercurio, National Political Services, Inc.: 80 percent chance of running, 3 out of 10 threat level

Average: 42.5 percent chance of running, 3.25 threat level


Bruce Blakeman:

The Latest: Blakeman, a lawyer and former Nassau County legislator who unsuccessfully ran as the Republican candidate for state comptroller in 1998, has been working toward a candidacy since at least November. On December 22, spurred by Rudy Giuliani's decision not to enter the race, Blakeman claimed it's "more likely than not that I am going to run" and that he's "90 percent of the way there."

Predictions:

George Arzt, George Arzt Communications: 30 percent chance of running, 1 out of 10 threat level

Dan Gerstein, Dan Gerstein Consulting: 50 percent chance of running, 2.5 out of 10 threat level

Hank Sheinkopf, Sheinkopf Ltd.: 50 percent chance of running, 3 out of 10 threat level

Joseph Mercurio, National Political Services, Inc.: 40 percent chance of running, 3 out of 10 threat level

Average: 42.5 percent chance of running, 2.38 out of 10 threat level


Liz Feld:

The Latest: The moderate Republican mayor of Larchmont, who's been meeting with party officials in New York and Washington for months, released a statement in November saying she's "actively considering a run for the United States Senate and expect[s] to make a final decision sooner rather than later." On December 8, her spokesman said she's "crossing the T's and dotting the I's and really taking a hard look at this." As recently as January 8, Feld wouldn't reveal her intentions.

Predictions:

George Arzt, George Arzt Communications: 30 percent chance of running, 3 out of 10 threat level

Dan Gerstein, Dan Gerstein Consulting: 50 percent chance of running, 1.5 out of 10 threat level

Hank Sheinkopf, Sheinkopf Ltd.: 10 percent chance of running, 2 out of 10 threat level

Joseph Mercurio, National Political Services, Inc.: 25 percent chance of running, 2 out of 10 threat level

Average: 28.75 percent chance of running, 2.13 out of 10 threat level


Marc Mukasey:

The Latest: Pretty much the only public chatter about Mukasey — a former prosecutor, current partner at Rudy Giuliani's law firm, and son of George W. Bush attorney general Michael Mukasey — came in a Post article on December 14, in which sources claimed he was "mulling mounting a challenge" to Gillibrand.

Predictions:

George Arzt, George Arzt Communications: 10 percent chance of running, 0 out of 10 threat level

Dan Gerstein, Dan Gerstein Consulting: 50 percent chance of running, 2 out of 10 threat level

Hank Sheinkopf, Sheinkopf Ltd.: 10 percent chance of running, 1.5 out of 10 threat level

Joseph Mercurio, National Political Services, Inc.: 20 percent chance of running, 2 out of 10 threat level

Average: 22.5 percent chance of running, 1.38 out of 10 threat level


Jonathan Tasini:

The Latest: The progressive labor activist and former president of the National Writers Union, who secured 17 percent of the vote running in a primary against Hillary Clinton in 2006, announced his candidacy for the Democratic nomination in June.

Predictions:

George Arzt, George Arzt Communications: 0 out of 10 threat level

Dan Gerstein, Dan Gerstein Consulting: 1 out of 10 threat level

Hank Sheinkopf, Sheinkopf Ltd.: 2 out of 10 threat level

Joseph Mercurio, National Political Services, Inc.: 2 out of 10 threat level

Average: 1.25 out of 10 threat level