Democratic Congressmen Avoiding Town Halls for Some Reason
They'd rather just talk things out over Twitter.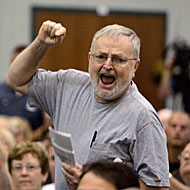 Last summer, when our representatives in Congress returned to their home districts, they held town halls to hear from their constituents on the controversial topic of health-care reform. They didn't realize how angry — and in some cases, insane — people had become. It wasn't like back in the Pilgrim days, when people would politely stand, offer their humblest opinion on the issue at hand, and maybe accuse someone of being a witch. Now they were rowdy, loud, sometimes violent, and they almost never let you finish a sentence. So this year, Democratic congresspeople are doing low-key photo ops, popping into small businesses, and holding telephone town halls, where it's easy to just hang up on someone and blame it on technical difficulties.