A Peek At the Amazing Secret Interior of 5 Beekman Street
"Like going back in time."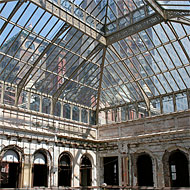 Sometimes, it feels like everything cool in New York has already been discovered, written up in Time Out, molested by international tourists, and urinated on just for good measure. "Everyone in New York always thinks they've seen it all," sighs Hillel Spinner, the building manager of 5 Beekman Street, an ornate building in Lower Manhattan, the magical, frozen-in-time interior of which was revealed today by the blog ScoutingNYC and has become a kind of Internet sensation. According to the blog's author Nick Carr, a location scout for film and tv, the owners are planning on restoring the building to its former glory, and converting it into a hotel, which they'll call "Beekman Palace." (Not to be confused with the Beekman Tower Hotel or the Palace Hotel) "It's a one-of-a-kind asset that will be restored to its former beauty and elegance," developer/owner Joseph Chetrit told the Post back in January 2008, soon after he and backers at real-estate investment firm Bonjour Capital purchased the place for a reported $50 million. Details on progress with the conversion, or whether it has been impeded by the financial crisis, are scarce: "They aren't ready to go public with their plans just yet," Spinner tell us, adding that more information would be made available "hopefully soon." In the meantime, check out the interior as it is now in our mini-slideshow.
BEGIN SLIDESHOW