David Axelrod Accused of 'Hippie Punching'
Our search for ... what that is.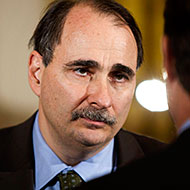 David Axelrod has been called many things: Ax. Mustache, possibly. David. But yesterday was the first time that he was called ... a hippie puncher.
It happened while the White House adviser participated in a conference call with progressive bloggers. As the Washington Post's Greg Sargent recalls:



That tension burst out into the open when [Crooks and Liars blogger Susan] Madrak directly asked Axelrod: "Have you ever heard of hippie punching?" That prompted a long silence from Axelrod.

"You want us to help you, the first thing I would suggest is enough of the hippie punching," Madrak added. "We're the girl you'll take under the bleachers but you won't be seen with in the light of day."

Axelrod didn't engage on "hippie punching," but he said he agreed with the blogger. "To the extent that we shouldn't get involved in intramural skirmishing, I couldn't agree more," Axelrod said. "We just can't afford that. There are big things at stake here."
As indicated by his "long silence," Axelrod had not actually heard of hippie punching. Neither had we. Urban Dictionary didn't help — the sole (and poorly rated) entry for "hippie punching" defined it as "working your way to the front of a show by performing a dancing, punching motion, therefore annoying audience members so they simply move out of the way." While this is indeed an annoying thing to encounter at concerts, it does not seem to be the same type of hippie punching that Madrak was referring to. There is an entry on the conservative blog IMAO called "Hippie Punching FAQ," but it was a bit too literal.



Q. Where is best to punch a hippie?

A. About the face. That's where the hippie is most annoying.
Eventually we found the answer on Madrak's own blog.



Basically, after Axelrod told us how wonderful we were and how much they needed us to close the enthusiasm gap in this election, I called him on it. Like, yo Dave, here we are, liberal activists who give money and GOTV, and the White House needs to punch us in public so no one thinks they take us seriously?
So "hippie punching," then, could be defined as "when the image-conscious Democratic establishment publicly distances itself from supportive liberal activists in order to appear more centrist," or something like that.
But why use that colorful phrase, as opposed to, say, words that Axelrod would actually understand?



It was kind of funny to ask a White House advisor if he understood what I meant by "hippie punching", it amused me. (I needed a diversion, because a dear friend had surgery to remove a brain tumor yesterday and I hadn't heard from her family yet.)
Well, it worked. Far from a momentary diversion, Madrak's "hippie punching" line has lived on long past the conference call, as she explains in a post this morning.



But then the emails started. Highly complimentary emails, which led me to the conclusion that a lot of people on that call agreed with me, but didn't feel comfortable enough to say it publicly ....

And then Greg Sargent wrote about it at the Washington Post. And all the nasty wingnut tweets started, crowing over the hippies bolting from the Democratic party. Swell.
Well, no. Hippies are not bolting from the Democratic Party. They're just going to grudgingly put up with it, forever, as they do with society's preoccupation with pants.
Hippie Punching 101: The Real Story [Crooks and Liars]
Liberal blogger directly confronts David Axelrod, accuses White House of "hippie punching" [Plum Line/WP]