Winklevei and Friend Ordered to Pay Their Former Lawyers $13 Million
I'm six-five, 220 pounds, there are two of me, and I owe a third of $13 million.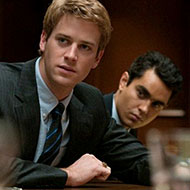 Remember the deposition scenes in The Social Network when Tyler and Cameron Winklevoss and their partner Divya Narendra, the founders of ConnectU, were suing Mark Zuckerberg for intellectual-property theft? C'mon, you remember, a double dose of Armie Hammer was on the screen and things were happening behind them? People said stuff? They were wearing ties? Anyway, Winklevei and pal weren't happy with the $65 million settlement that came out of the suit, so they tried to undo it. In May, they accused Facebook of securities fraud — alleging that the value of the common stock was much lower than Zuckerberg claimed. When ConnectU's lawyers, Quinn Emanuel, didn't want to wait for their $13 million payout, ConnectU fired the firm, suing them for malpractice for failing to look at Facebook's latest valuation. In August, an arbitration panel found the firm had done nothing wrong. ConnectU asked the judge to wait until the Ninth Circuit court of appeals ruled on whether the $65 million settlement was even valid. But Monday, the judge said it was time to pay up. We're just happy this didn't happen to Eduardo Saverin's settlement. Can you imagine those Bambi eyes welling up? Plus, how would he explain this to his father — again?!
Judge Orders ConnectU To Pay Its Former Lawyers $13 Million In Facebook Case [TechCrunch]