Remembering Phyllis Robinson: The Original Mad Woman
"There were women writers before Phyllis, but they wrote about beauty products," he said. "At DDB, Phyllis had the authority to work on whatever the hell she wanted to, baby."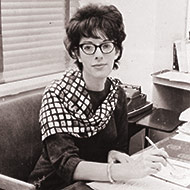 Peggy Olson had to write her way off Don Draper's secretarial desk, but Phyllis Robinson advanced directly to go. After graduating from Barnard in 1942 and working a series of copywriting jobs, she landed at Grey Advertising, where copy chief Bill Bernbach took her under his wing, and he recruited her in 1949 to run the copy department of his then-upstart firm Doyle Dane Bernbach.
DDB helped set the template for modern advertising creative teams, pairing writers with art directors to collaborate on projects, instead of producing copy first, art second. Robinson was the first woman to run a copy department, working with art directors like Bob Gage and Helmut Krone and nurturing talented young writers like Mary Wells. Former Esquire art director George Lois, who worked for Robinson in 1959 and 1960 (and appears with her in the 2009 ad documentaryArt and Copy), declares her "the first great modern advertising writer."
"There were women writers before Phyllis, but they wrote about beauty products," he said. "At DDB, Phyllis had the authority to work on whatever the hell she wanted to, baby."
Robinson broke ground by writing conversational copy like "You Don't Have to Be Jewish to Love Levy's Jewish Rye Bread," with a photo of, variously, a Chinese kid, a Native American man, and an Irish cop enjoying a sandwich. Or, for Ohrbach's department stores: "I believe I found out about Joan." (Explains DDB colleague John Spencer: "The secret was where Joan gets those beautiful clothes on the family income.") But her biggest triumph was arguably for Polaroid, as she dispelled the notion that instant cameras were gimmicky. "She made everything that Polaroid did famous," says her friend Ted Voss, Polaroid's former vice-president of worldwide marketing. Her commercials, featuring Laurence Olivier and then-unknowns Ali MacGraw and Blythe Danner, made her so indispensable that when she retired and moved with her husband and daughter, Nancy, to Rome for five years in 1972, Polaroid begged her to continue with them. She agreed, so long as she could call the shots. Spencer and other DDB executives called her in Rome at least once a week. Voss says she would eventually get exasperated and announce, "There is no further discussion, because Rome has spoken."
Robinson's daughter, Nancy, says there was another side to her mom that was "not so much of a career-woman." But Nancy also remembers going to commercial shoots with her mother, and watching cartoons with Krone's children. In a poetic convergence, Robinson paid tribute to her husband and daughter in a moving minute-long commercial for Polaroid Colorpack cameras. Entitled "Father and Daughter," it depicts a man and his 5-year-old spending an afternoon in Central Park, which ends with the two riding in a hansom cab, the daughter asleep in her father's arms as he reviewed the instant photos he snapped that day. The only words come at the end: "If you're not taking photos with a Polaroid Colorpack camera, there's something left out of your life." Robinson died on New Year's Eve, at 89. In her decades of mastering the balancing act of trailblazer and a devoted family woman, it appears she left out nothing.
BEGIN SLIDESHOW