The MTA Is So On-Trend
Teal: so hot right now.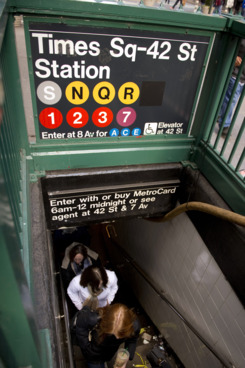 When the Second Avenue subway project finally reaches completion, the T line, as it will be known, will have a teal logo. This might be an accident born of thriftiness — it was the color of the shuttered JFK Express — but teal, the Times reports, is quite now.



It happens that teal has been identified by the fashion world as color of the year.

"It has a very upscale connotation," said Leatrice Iseman, executive director of the Pantone Color Institute, which surveys fashion designers each year and determines the latest color. "People with more discriminating tastes tend to choose that as a favorite color."
Not everyone thinks so. One horrified designer, who prefers subtle neutral tones, "hopes the city never pairs the turquoise T line with its orange lines, because that would produce a garish Howard Johnson effect." That will surely be top priority as the city considers how best to serve the needs of commuters in future decades.