The C.I.A. Has a Special Twitter and Facebook Unit
They're called the "vengeful librarians."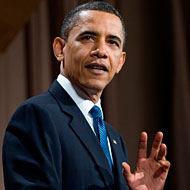 The C.I.A.'s so-called "vengeful librarians" — a secret team of analysts armed with library science degrees and language proficiency — are monitoring social networks daily for useful information. Nearly every day, Barack Obama gets a briefing full of information pulled from Twitter and Facebook. Personally, we might ask for a rundown on what our middle school crush has been up to, but apparently he's getting insight on what the local mood is in certain troubled regions like Pakistan and Yemen (and surely the C.I.A is also tracking people and events a little closer to home).
AP Exclusive: Who's following you on Twitter or Facebook? Maybe CIA's 'vengeful librarians [WP]