Michelle Obama Partied With Powerful Women in Tribeca Last Night
Robert De Niro helped the First Lady host a fund-raiser featuring the likes of Beyoncé and Whoopi Goldberg.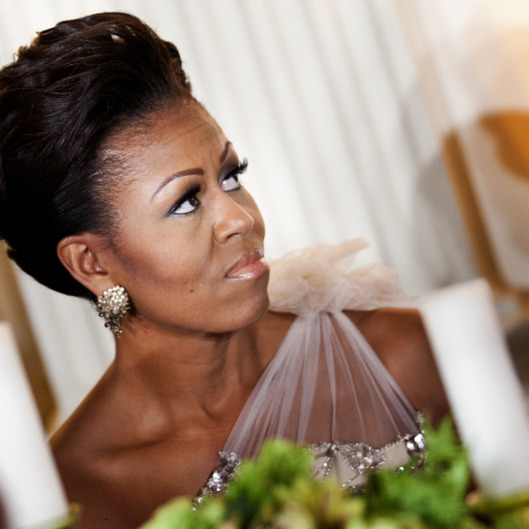 Robert De Niro played host at Locande Verde, the restaurant in his Greenwich Hotel, for a lady-centric political fund-raiser last night featuring Beyoncé, Star Jones, Whoopi Goldberg, Angela Bassett, and guest of honor Michelle Obama. The First Lady arrived around 9 p.m., after a taping with David Letterman, and was welcomed with sass by the legendary actor. "Callista Gingrich. Karen Santorum. Ann Romney. Now, do you really think our country is ready for a white First Lady?" De Niro asked. The crowd reportedly "roared," and he quipped, "Too soon, right?"
Also in attendance were Harvey Weinstein, Gayle King, and Ben Stiller, with the 85 guests dropping at least $5,000 each for a spot. Grace Hightower, De Niro's wife, also took a turn speaking, and called out the "vampire energies" of Obama's opponents, while dubbing Michelle a "stunner."
But rah-rah-ing aside, the Daily News reports that there was some timely substance to the dinner conversation, which focused on "how the Republicans had crossed the line in terms of women's rights." According to one guest, "There were a lot of powerful women in the room, and that's what they were talking about." And for that on-message leak, the Obama campaign is grateful.