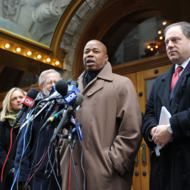 From documenting unnecessary force during Occupy protests to allowing citizens to log their stop-and-frisk experiences, smart phones are emerging as a genuine tool for justice. According to the Daily News, New York State Senator Eric Adams is introducing an app that should be a nice addition to the "power to the people" genre: Called the "Brooklyn Quality of Life" app, it would enable people to report crimes anonymously through voice or visual recording, and "[a] team of retired law enforcement volunteers will share it with investigators through a private Facebook page." In other words, by removing the NYPD from the reporting process, this an app that allows to you to report crime without technically "snitching."
As the article explains,
Adams, a former cop, insisted he's not encouraging people not to call the police — but said many people in high-crime neighborhoods won't report what they know about criminal activity no matter how much they're urged to do so because they fear retaliation or don't trust the police.

"We don't want people not calling 911. We will encourage calling 911," he said. "It may seem strange. We may say to ourselves, 'Just call the police!' That's not the reality … The reality is people are afraid of the police.
Of course, others in the state senate do see it as anti-911, but in neighborhoods where people already don't call 911, reporting of any kind seems like a positive step. If the "Brooklyn Quality of Life" app can remove some of the stigma of reporting, it might actually live up to its name.