The Debate Beer Tent Was Right Where It Was Supposed to Be
Next to the press center.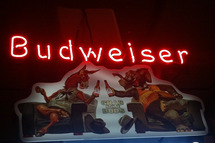 Clearly, Anheuser-Busch knew what it was doing when it placed its "hospitality tent" full of free beer and grub next to the press center at Tuesday's debate. Reporters are a notoriously thirsty bunch, and bartenders there told The Observer's Hunter Walker they were certainly busy. Good to know there's the potential for on-site drinking games at these things.