At Least Three Dead in Wisconsin Day Spa Shooting [Updated]
An improvised explosive was also found on the scene.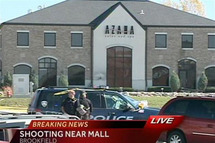 Two months after an armed racist killed seven Sikhs at a Wisconsin temple, suburban Milwaukee was again the scene of a mass shooting. According to initial reports from the Milwaukee Sentinel Journal and CNN, a man identified as 45-year-old Radcliffe Haughton entered the Azana Day Spa, located across the street from Brookfield Mall, and opened fire. A total of people were reported shot — three of them fatally. The other four remain in the hospital with "non-critical injuries." An improvised explosive device was also found on the scene. The shooter— believed to be the estranged husband of a spa employee — was last seen chasing a young woman into the street while brandishing a handgun. He remains at large, having fled either on foot or in a black 2003 Mazda, which police have since found.
This post has been updated throughout.