Bob Schieffer Wants to Double the Number of Presidential Debates
America can't handle that many drinking games.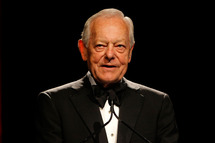 Apparently Bob Schieffer is still on a high from being the least hated of this year's presidential debate moderators, because he's decided to share some unsolicited advice. In a CBS News opinion piece, Schieffer notes that the showdowns "seem to work best when the candidates are seated at a table" (like his foreign policy debate) and argues that the debates are still relevant because they're watched by millions of Americans from both sides of the political spectrum. "That's why I believe we should have MORE, not fewer debates," writes Schieffer. "Instead of three, I'd propose six, with the first one immediately after the political conventions." Schieffer adds, "at this stage of my life I can't imagine I'd ever do another," so this isn't a shameless attempt to make more work for himself.