One57 Crane Is Secure, Surrounding Buildings Are Reopened
But it will still take days or weeks to come down.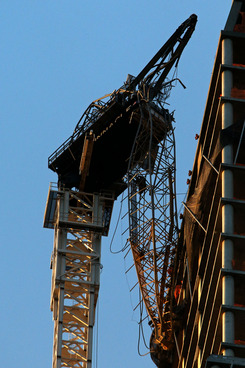 The construction crane on top of the new luxury high-rise One57, which has been danging above Midtown since it was damaged on Monday during Hurricane Sandy, has finally been secured. The Wall Street Journal reports that on Saturday and Sunday construction workers used a hand crank to rotate the cab and crane platform until the 150-foot boom was close to the building, then tied it to the building's concrete columns using steel cables and beams. It may take days or weeks for the boom to be cut up and taken away, but on Sunday night streets and neighboring buildings were reopened. Though some experts have suggested that the situation was avoidable, Lend Lease, the construction manager on the project, says the crane was properly prepared for the storm and in its inspection the city's Department of Buildings didn't find any signs of problems that could have caused the accident.