Alleged NoLita Firebug Not Feeling Very Chatty
At his arraignment his lawyer says he's not talking.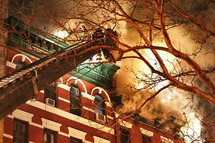 Wei Chu Hu, who was indicted on Thursday for allegedly starting last week's deadly NoLita blaze, set the fire out of jealousy that his wife had cheated on him, prosecutors have said. So his wife, understandably, doesn't feel like talking to his defense lawyer, which is a real problem for Wei's defense. Wei, a recent immigrant from China, speaks no English, "hasn't been very receptive to conversation," and all his records were destroyed in the fire, his lawyer said. So basically his representative doesn't know anything about him, and he's alienated his only potential ally by allegedly trying to kill her.