News Corp. Has Had About Enough of Apologizing
The program to pay phone-hacking victims is ending.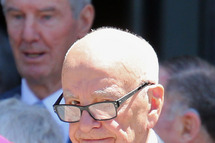 As Rupert Murdoch's company continues to settle phone-hacking cases out of court, it's opting to shut down the voluntary compensation scheme it was using as a "speedy, cost effective alternative to litigation" for victims. While additional civil claims are still a possibility, more than a year of paying out damages with little resistance is all Murdoch can muster. Speak now or forever hold your peace.