Oscar Pistorius Might Want to Get Running Again Soon
The Olympian is making sure practice is allowed while out on bail.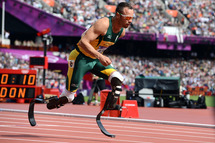 Double-amputee Olympian and accused murderer Oscar Pistorius just wants to make sure he's allowed to go and exercise while out on bail, should his mental state allow it, the Associated Press reports. "It's his wish to continue to practice," said a correctional services rep, despite an adamant denial from Pistorius's own team, which would not want to appear insensitive. "Absolutely not," said his spokesperson. "He is currently in mourning and his focus is not on his sports." But, for the record, yes, he can. And his next court date isn't until June 4.